Strawberry Hill Nature Preserve
Kay Deardorff
Strawberry Hill Nature Preserve Naturalist
(12/2011) Who is Strawberry Hill? What do you do? Where is the preserve? Where did Strawberry Hill come from? Can you hike on the preserve? Can anyone use the property? These are just a few of the common questions people ask about Strawberry Hill Nature Preserve.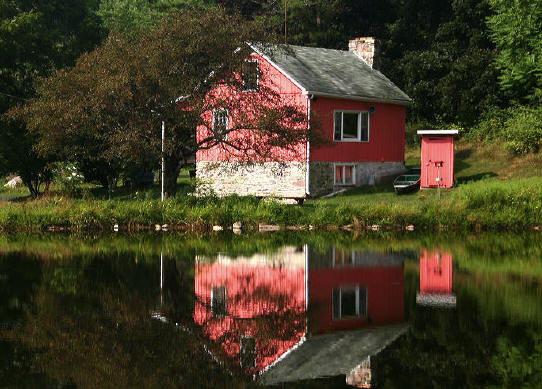 Strawberry Hill Foundation was created, as a nonprofit organization, in 1986 by Frances Morton Froelicher to provide the community of Adams County with awareness, appreciation, and understanding of our natural environmental and cultural heritage through programs provided by the organization that now operates as Strawberry Hill Nature Preserve and Environmental Education Center.
Mrs. Froelicher began the foundation to support her husband, Hans Froelicher, and his efforts to clean-up and protect the Swamp Creek Watershed. In the early 1960's, the Froelichers began purchasing properties in Hamiltonban Township, stitching together various tracts of land to create the original 519 acre core of Strawberry Hill. After her husband's passing in 1976 and after ten years of failed efforts to find a new owner, who would commit to providing environmental education, Mrs. Froelicher created the foundation to establish an environmental education center on the property.
As the founder and executive director of the Citizens Planning and Housing Association of Baltimore, MD from 1945-69, Mrs. Froelicher believed that work done with a small professional staff, a large number of volunteers and a great deal of enthusiasm, that Strawberry Hill could establish itself as valuable asset to the Adams County community.
Mrs. Froelicher managed the land and worked towards establishing an environmental center until her death on December 31, 1994. In her passing she gave Strawberry Hill to the community of Mount Hope, and provided a small endowment to create an environmental education center.
Since 1994, Strawberry Hill has expanded the preserve to include 609 acres. Our supporters have grown to 360 individuals and families from the surrounding community and the Educational Center serves over 5,000 students annually.
Strawberry Hill Nature Preserveís ongoing mission is to protect the Swamp Creek Watershed while connecting our surrounding community with the natural world by teaching, inspiring, and promoting stewardship of the environment. The Preserve is a non-profit education center and conservation organization surrounding 609 acres of Swamp Creek, a high quality cold-water stream found in Hamiltonban Township, 3 miles north of Fairfield, PA.
Today, Strawberry Hill protects numerous wetlands, vernal pools, and two high quality stream corridors, and the cultural heritage of Swamp Creek, Middle Creek, and Mount Hope. The Preserve provides recreational opportunities to Adams County residents through a variety of cultural and environmental programs and by maintaining ten miles of trails that are open to the public for hiking.
The Preserve protects the Swamp Creek Watershed. Swamp Creek is one of the few high quality cold-water streams still found in Pennsylvania. This creek feeds the Middle Creek watershed, which is one of the primary sources of drinking water for Hamiltonban Township and Fairfield Borough Municipal Authority. Ultimately these headwaters flow into the Potomac River leading to the Chesapeake Bay.
The Preserve provides access to the watershed through ten miles of walking trails. These trails are open daily to the public from dawn to dusk, providing natural space and recreation opportunities for all people including hikers, bird watchers, and families. Nature enthusiasts alike participate in week-long activities that are nature based, educational, and recreational. Strawberry Hill also offers public programming three to four times per month for adult individuals and families to connect with nature.
In addition to working with the local school districts, Strawberry Hill has partnered with organizations such as Abraxas Youth and Family Services out of South Mountain Restoration Center and Lincoln Intermediate Unit providing community service projects for adjudicated kids, at-risk youth, and children with special needs. These organizations have helped to maintain and improve Strawberry Hillís facilities throughout the years.
Strawberry Hill is an active partner of the Watershed Alliance of Adams County, Gettysburg Visitorís Bureau, the PA Highlands Coalition, the South Mountain Partnership, and the Pennsylvania Association of Environmental Educators, Pennsylvania Park and Recreation Society, and the Appalachian Trail Conservancy. Strawberry Hill staff serves on committees for the Gettysburg and Adams County Chamber of Commerce, the Adams County Office of Planning and Development, and our community townships and boroughs.
As Adams County's only non-profit environmental education center, Strawberry Hill Nature Preserve's operations and its presence in the community survive, solely on funds derived from the Foundation's endowment, membership and program fees, donations from supporters, and a mixture of state, federal, and private grants, in addition to valuable services donated by community businesses and our volunteers.
The site of Strawberry Hill Nature Preserve & Environmental Center has a long history of human activity. Native American traveled and hunted in these woods. Remnants of arrowheads and other tools have been found throughout the area.
European settlers, who arrived in the 1700s, cut the forest for fuel and cleared the land for cultivation. Many charcoal mounds can still be found on the Preserve. The people of Mount Hope made their living by working the land. They cleared forests, farmed, planted orchards; they even mined for copper and other minerals.
D. Daniel Boone, a botanist from the Maryland Natural History Heritage Program, visited Strawberry Hill in 1985 and reported sighting some 37 species of birds, including warblers, gold finches, owls, tanagers, orioles and pileated woodpeckers. Interesting plants abound; mushrooms, 20 or more different kinds of ferns, gentians, Cardinal flowers, Lady Slippers and nodding trillium. Trees on the 500 acre tree farm are varied in size and type. Animals are numerous: turkey, deer and fox are in residence. Different kinds of fish, particularly trout and blue gills, are in the pond and streams.
The Pink Cabin: Built in 1798 by Scots-Irish pioneers who settled the frontier areas of Mount Hope, the cabin was constructed with native stone and timber, such as rhyolite and chestnut, The cabin was designated an official Civil War building as it is believed that the house was used by Confederate troops while retreating west over South Mountain from the Battle of Gettysburg. The house was painted its trademark pink and restored in the 1960's by our founders, the Froelichers. The building now serves as a classroom for thousands of students every year and as a unique attraction for Strawberry Hill.
So come check us out! Come hike our trails and check out the new children and adult programs that we offer. There are nature programs scheduled for every second Sunday, story book time, adult naturalist programs, trail runs, dog hikes, a Halloween trail walk, Christmas photos with Santa, Maple Sugaring Festival, and much, much more planned. Visit our website www.StrawberryHill.org to stay informed about our upcoming events.
Read other articles about places in the Emmitsburg area