Mount Presents President George R. Houston with "Friend of Education" award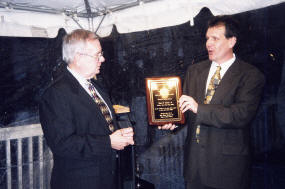 On November 15, 2002, the Education Department at Mount St. Maryís College presented George R. Houston, president of the college with the "Friend of Education" award. The annual award is presented at a reception celebrating the achievements of students and mentors in the departmentís internship program. This yearís reception was held at the Presidentís residence in Emmitsburg. Over 100 representatives of the Mount community were in attendance.
President Houston received the "Friend of Education" award in recognition of his great contribution to education, support, good will and hospitality. As a teacher himself, George recognizes the importance of the Mountís education programs and academic quality.
President Houston will retire from the college at the end of June 2003. The Mount has truly been blessed with his leadership these past eight years.
Education Department Chair, Dr. Christopher Blake presented the award. For more information, contact Matt Lane, (301) 447-5366