Mount St. Mary's will be site for
$60 million solar power farm



James Rada, Jr.
Emmitsburg News-Journal

Mount Saint Mary's University will soon become the site for Maryland's largest solar power farm. Constellation Energy of Baltimore announced on Dec. 8 that it had entered into an agreement to build a 17.1 megawatt thin-film solar power plant on 100 acres of Mount Saint Mary's University in Emmitsburg. The plant is expected to be completed by 2012 at a cost of $60 million.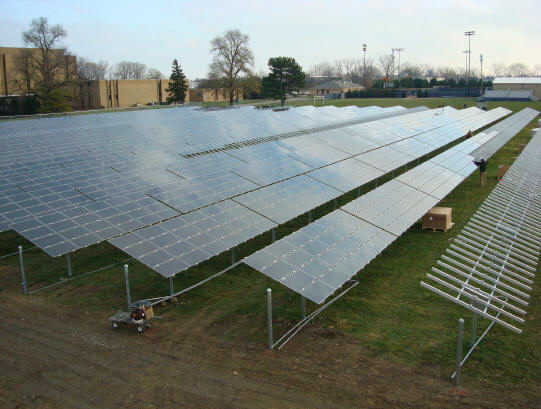 Example of solar panels to be used on Mount Solar farm
The State of Maryland has signed a 20-year agreement to purchase energy from the plant, according to Constellation. The plant is expected to produce 21 million kilowatt hours of electricity each year.
"Constellation Energy is pleased to be partnering with the state of Maryland on the Generating Clean Horizons initiative to develop new sources of clean power and stimulate the economy through the growth of the clean energy sector," said Mayo A. Shattuck III, chairman, president and chief executive officer, Constellation Energy. "This large-scale solar facility will make a significant contribution to our shared goal of a cleaner energy future."
The solar energy farm "would be the largest solar photovoltaic installation in Maryland. Only two photovoltaic systems currently in operation in the U.S. are larger," according to Constellation Energy.
Constellation Energy will construct, own, operate and maintain the facility while leasing the land from Mount Saint Mary's. The university will also purchase 1.2 megawatts of the 17.1 megawatts that the facility will generate.
"This unique partnership with Constellation Energy strengthens Mount St. Mary's University's commitment to the promotion and creation of clean energy," said Thomas H. Powell, president, Mount St. Mary's University. "It continues the 'greening' of the Mount. Our students will be on the forefront of responsible land use and creation of renewable energy resources. Frederick County will benefit not only from our generation of clean energy but also from the reduction of dependence on more traditional use of coal, natural gas and fossil fuels."
The solar power farm will use thin-film photovoltaic solar panels situated on approximately 100 acres of university land. The thin-film panels use extremely thin layers of semiconductor material applied to a low-cost backing such as glass, flexible metallic foils, high-temperature polymers or stainless steel sheets. Thin-film panels require less energy to manufacture than silicon-based solar cells, but they are slightly less efficient. Thin-film solar panels can now convert 19.9 percent of sunlight into electricity while silicon-based solar panels can convert up to 20.3 percent.
Jeff Simmons, Mount environmental studies professor says "this agreement, advances the Mount several steps closer toward its goal of a sustainable university. Converting sunlight energy into electricity is one of the cleanest and environmentally benign methods for producing electricity on a large scale. Plus, having the solar panels right here on campus will provide extraordinary learning opportunities for our students."
The Maryland Energy Administration, in partnership with the University System of Maryland and the Department of General Services approved the award of four renewable energy projects under the Generating Clean Horizons program launched in February to spur the development of large-scale, commercial renewable energy projects like this one. Under the initiative, the state issued requests for proposals for long-term power purchase agreements from renewable power sources delivering clean power to the grid by 2014.
Both Constellation Energy and Mount Saint Mary's have shown interest in developing renewable forms of energy. Mount Saint Mary's has three buildings that use geothermal energy. Constellation Energy is also pursuing a wind-power project in Garrett County, and has other solar and geothermal installations for customers throughout Maryland.
Read other stories on Mt. St. Mary