Taneytown welcomes Rust Redux
Danielle Ryan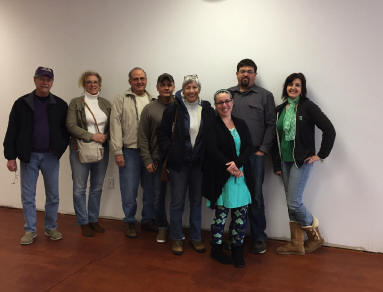 (3/27) RUST co-owners David Underwood and Justin Staudinger, along with numerous supportive business owners and members of the community are excited to announce that the multi-art events space will be opening this April. Located at the old Opera House on 107 East Baltimore Street, the space, named Buickster Hall, will be home to monthly art exhibits of all kinds.
A dedicated group of people has joined together to make Buickster Hall come into fruition. As Taneytown has been continuously growing, Underwood and other local business owners have noticed a desire and necessity for an art space that would not only showcase local talent, but also serve as a place for the community to come together. All those involved hope to harbor an environment where both residents and visitors can enjoy the art at one's own leisure, mingle and feel connected to the community of Taneytown.
The idea behind Buickster Hall ties into the desire to promote Taneytown, especially the vast array of "hidden" people adorned with all sorts of artistic talents. As one of the leaders of the "Why TTOWN" campaign, Underwood has been brainstorming ideas to continue promoting Taneytown in a positive light. What better way to showcase Taneytown than to promote all the talented artists of the area, and create a unique space not yet seen in surrounding towns.
For the opening exhibition, entitled Rust Redux, Buickster Hall welcomes Virginia Sperry and Alyssha Csuk as the first artists to showcase their work at the newly revitalized Opera House. Both artists happened upon RUST by chance on their way back from an artistically inspired trip to a junkyard outside of Taneytown. With "rust" on their minds, they couldn't help but feel drawn to Staudinger and Underwood's business, which features vintage, antique and anything "rusty." As some would say, the rest was history. Underwood knew that these two women needed to be the first artists to showcase their rust inspired art at his, then brainchild, Buickster Hall.
Both artists work to create inspiring and thought-provoking pieces, and both use "rust" in some form to make these creations. Sperry is an artist who creates unique welded sculptures and rust-inspired paintings. She has created several life-sized steel animals that currently reside at her home studio, but has also created abstract sculpted pieces. Her exhibition will offer but a glimpse into her vastly creative portfolio of work.
Csuk is a photographer who features rust in an abstract form throughout her photographs. Csuk originally felt inspired after exploring the Bethlehem Steel Site. After that point in time, she knew that she wanted to continually capture the hidden beauty that is often overlooked in industrial ruins. Her photographs are large and powerful and stand apart while simultaneously intermingling with Sperry's sculpted pieces. These two artists are coming together with a common theme and will create a gallery experience to invoke and inspire the minds of all who visit. As soon as Underwood saw their rust inspired portfolio of work, he knew that it would serve as the perfect way to open Buickster Hall.
The event space is coming together, and the overall design is beginning to take shape. Incredible pieces are already making their way into the building, including custom-made rustic-wood walls, which were crafted by local resident Craig Dresser. These pieces will serve as dividers within the space and can be moved so the room can be mutable, allowing for artists to utilize the area in various ways.
Underwood hopes to open Buickster Hall mid-April, and will be holding an artist meet and greet on April 20th from 5 – 7 p.m. Each exhibition will be open for two months at a time, which means that Sperry and Csuk's work will be on display mid-April through mid-June. For now, weekends during the two-month period are set, but Underwood would like to see the space open and available for visitors during some weekdays as well.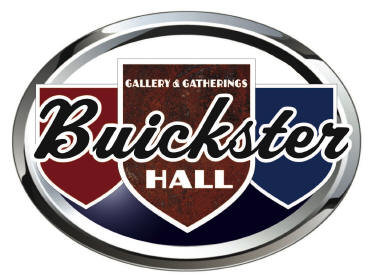 In the future, Underwood foresees the space welcoming local musicians, wine and bourbon tastings, and various other artists and their work, all with the commonality of showing what the people of Taneytown and surrounding localities have to offer. Underwood already has a local artist that creates pottery who is interested in exhibiting in June as well as other unique artists hoping to showcase their work.
There are so many talented people in Taneytown whose art isn't known, but have a world of artistic abilities and stories about themselves and their art. This event space will allow them to come forward and show visitors and residents what they have to offer while simultaneously promoting all the wonderful aspects of the town. Underwood is immensely excited to begin this journey, and looks forward to the grand opening.
Underwood stated, " We wouldn't have made it this far without the support and help of everyone involved." An incredibly dedicated group of people is making this happen. From the construction crew, Scott Davis and Craig Dresser, to Jerrie Cole, who will be designing and constructing the sign, Lisa Walters, the "window lettering guru," Kim Golliday of Taneytown Dance Studio, Ronnie Putnam, building owner, and Matt Parrish, owner of Parrish in Paradise Landscaping. All of these people have been instrumental in helping this idea come into reality.
Lisa Walters of creativelei.com said it best: "I think that's really been the focus of this project … the partnerships being made with small businesses and working as a community instead of individuals." The local business owners have come together and are working as a community to bring something uniquely special to the town; an art-centered space for the community.
Please take some time and be sure to stop by the open house on April 20 and see what all the excitement is about!