Thurmont hosts first teen ĎOpen Mic Nightí
Hillary Rothrock
(12/15) On the evening of Friday, December 8th at the Thurmont Main Street Center at 11 Water Street, two business owners from the community held a free open mic night for local teens. Niki Eyler, who owns The Eyler Stables Flea Market at 137 Emmitsburg Road in Thurmont approached Hillary Rothrock, owner of J. Rothrock Outfitters of 3 East Main Street about staging an event for the local teens this Winter. Together with the assistance of Vickie Grinder, Thurmontís Main Street Manager, they pulled off the first ever Thurmont Free Teen Open Mic Night.
The idea of hosting an Open Mic Night was born out of Eylerís daughtersí love of theatre and a desire to give back. "Our teens face a lot of negativity and stress in their daily lives. I wanted to provide them a safe space to get together, collaborate, and do something fun." said Eyler. Todayís teens donít have much to occupy their time in a positive and rewarding way outside of sports and school. Many local arts programs have lost membership, educators, and funding. Both women felt similarly sad about the state of local arts programs compared to not that long ago.
Eyler recalled a time when Catoctin HS theatre group was huge and varied, Rothrock recalled a time they could hear the Catoctin HS marching band practice from their front yard and the memories it would stir for her and her husband who started dating in their high school band. Both women agreed they found purpose, positive role models, safe fun, and learned skills in their respective high school arts programs and have watched students suffer due to lack of opportunity and experience. "This was our chance to give back to these teens who are our future community committee members, educators, and entertainers." said Rothrock.
Being the first of its kind, Eyler and Rothrock were uncertain how many kids would attend and how well the informal atmosphere would be received by todayís teens. "We were prepared for a few kids but hoping more would take the opportunity. When I was a teen in Harrisburg PA, our local coffee-house allowed teen musicians to play. I have many fond memories of attending open mic nights. Some of my talented friends have gone on to make careers out of it. When Niki approached me to brainstorm, we both really liked the idea of an open mic" said Rothrock. With the Thurmont Main Streetís help, the ad ran in the local newspapers and the local theatre and music groups shared the information with their members. Flyers were also placed around Thurmont and handed out at their respective establishments.
Niki opened up the open mic night and presented the sign-up sheet to the talented youths in attendance. Acts were limited to double-slots to ensure everyone get a chance to perform. Seats were packed with supportive attendees, leaving standing room only for parents. There were kids as young as 11 and as old as 15 standing up in front of an informal audience and present their gifts. They were impressively talented and everyone really enjoyed themselves.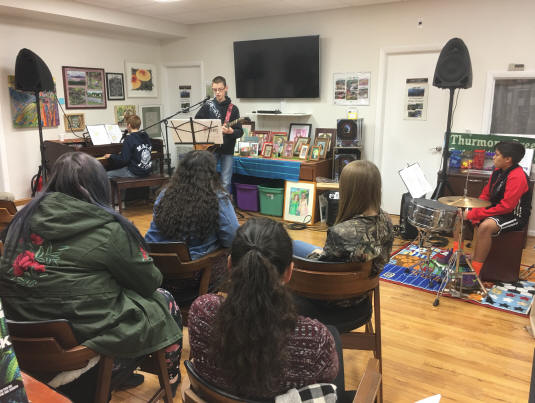 The Faith Boyz Band from Mount Airy Christian Academy started off the night. The Faith Boyz Band started out in 2012 as a sibling duo when brothers Clay and Travis, now 13 and 15 years old, discovered their musical gifts while taking individual lessons on guitar, piano, and voice. For 5 years they have performed together in many local venues across the state. They have a CD out that includes an original song written mostly by Travis when he was just 10 years old. In early 2016, Bill and Matthew, an experienced father and son team, joined the Faith Boyz adding a strong rhythm section to the band. Matthew, the youngest member of the group currently at age 11 has been playing the drums since he was old enough to hold the sticks, and it shows. He and his dad Bill have also performed in countless venues with other bands for several years prior to linking up with the Faith Boyz. Although The Faith Boyz play a variety of songs from different genres, their motto is "messengers first, musicians second" as they focus on sharing the Word of God through Christian music. They entertained the audience with classics that had everyone tapping and dancing along. They played some Christmas favorites like Rocking Around the Christmas Tree, Hallelujah, and country favorites like "Chicken Fried".
Following the band, Addison, age 15, of Catoctin High School confidently presented several acapella and accompanied songs and monologues from various musicals including "Good Morning Baltimore" from Hairspray and a beloved Hamilton favorite. She was a favorite of the younger audience members as she tried to connect with them while performing to encourage them to join in and bring their own talents to the stage in future. We canít wait to see where this young lady ends up on stage!
Next up was the talented and laid back Lyla, age 13, from Thurmont Middle School. Lyla was a natural in front of the audience and takes lessons at the Frederick School of Rock. She performed several acoustic classics and modern favorites on her guitar and ukulele with vocals. Next up was Jack, age 14, also of Thurmont Middle School. He wrapped the night up by playing a very moving acoustic ukulele cover of "Dust in the Wind". Together, Lyla and Jack ended the night with a very sweet duet of John Legendís "All of Me". Lyla and Jack are talented performers who also dance with ESP Dance in Thurmont.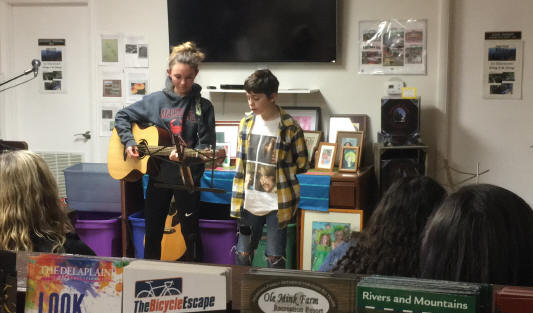 The kids that attended the Open Mic Night were interested in performing at future Thurmont events. Rothrock, a music therapy major in college has friends in the local Frederick music scene and brought a range of musicians to this past summerís Thurmont Farmers Market. Because of the Open Mic Night, itís in the works to provide them a venue in the community at the Farmers Market this coming summer. Maybe the next big star is in our midst and as a community we should be supporting them and providing opportunity for others to discover their talents.
Eyler, Rothrock, and Grinder are very excited to announce that the launch of the free Teen Open Mic Night was such a huge success that another is already in the works! Commodore Recording Studio located at 204 E Main Street in Thurmont will host the second free Teen Open Mic Night on Saturday, January 20th from 6 to 8 p.m.. Owners Doug and Patty Benson are excited to show the talented youth their professional recording studio and meet the talented kids in our midsts and show them how they can support them in their craft. For more information about studio can be found online at www.commodorestudio.com. The open mic night is open to teens 13-18 but younger musicians and thespians are welcome with parental supervision. Sets are limited to 4-8 minutes. We hope to see you there!
Inclement Weather Date is scheduled for February 3 from 6 to 8 p.m. For more information you can reach Hillary Rothrock at 301-842-7231 or at Info@JRothrockOutfitters.com
Read other news stories related to
Thurmont