Mom's Time Out
Springtime memories
Mary Angel
(4/2016) I canít believe it is Spring Time! Maybe I canít believe it because the weather canít make up its mind, one minute its 75 degrees and the next they are calling for snow. Or, maybe I canít believe it because it seems like spring has come out of nowhere. I mean, is this year really a quarter gone already? Regardless of how it feels, Spring is here and I am super excited. As soon as the first ray of Spring sunshine hits my face I am overwhelmed by wonderful pictures in my mind of happy Spring memories.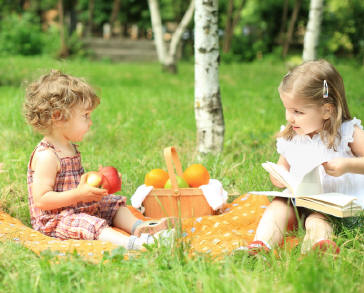 The minute the weather starts warming up and the sun starts shining I am immediately taken back to when my oldest was a little one, maybe around 18 months old. We were in the process of building a house and had already moved from our previous home, so we were living with my in-laws. My son, at the time an only child, would go outside and play with his buddle mower in the early evening waiting patiently for his Granddad to get home from work. Every time a car would pass by the house he would stop "mowing" and look anxiously down the driveway. If the vehicle drove by he would continue "mowing" until Granddad finally got home. The smiles on both their faces as Granddad picked him up in the evening is what I remember most of all Ė priceless!
The next picture in the slideshow of Spring that passes through my mind is on of mud pies. My boys spent more than their fair share of hours playing in the mud when they were young, but never making mud pies. My girls, on the other hand, could open their own mud pie bakery, they have created so many different varieties of mud pies. Since they were very little they have always gone outside right after a rain storm to "bake" some pies. I have been caught, quite a few times, cracking the window so I could hear the conversations had by my two little chefs as they were discussing the days pie menu. It is also one of the only times when I find a completely filthy child absolutely adorable. When they are finished making pies and they come to the door covered in mud (literally from head to toe), they couldnít be any cuter if they tried.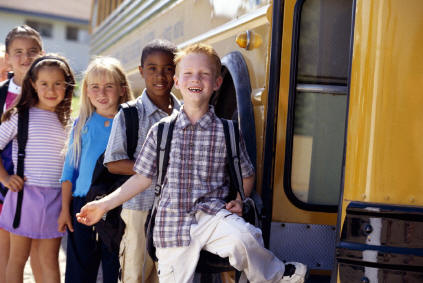 The next picture is of my second son playing T ball. It was such a long time ago that I am often surprised that the memory is as vivid as it is. I can see that tiny little boy, with his bowl haircut, standing there waiting for his turn to take a swing at that little ball sitting patiently on the tee. The tiny little legs running for all they were worth to make it to first base. My fondest, most vivid memory however, is of my baby boy (and the rest of the outfielders) playing in the dirt while they waited for the ball that was never going to make it that far. I am sure whoever worked on the field didnít think all of the tiny holes in the outfield were as cute as I found they boys who were making them.
My second to the last Spring time memory is of one or both of my girls decked out in their recital clothes holding the bouquet of flowers we had given them. I would always take pictures near a beautiful flowering shrub or three (whatever I could find). Even the times when I was trying to get their hair into a bun (I am extremely hair challenged) and the little tears would roll down their cheeks. It was sad but still part of the memory. My favorite picture (and I mean legitimate picture, not memory) is of my youngest laying on the floor after her recital piece was finished and she was completely spent. She had given it her all and was ready to call it a day. A friend of mine saw her laying there and asked if she could take her picture. Without hesitating she started pouting. She was done with the recital, the dress, her hair, and, most definitely, any and all pictures (I am a bit of a shutterbug). My friend couldnít resist, as she only became more and more adorable, so she snapped a few pictures and apologized to me for torturing her. One picture in particular has been and always will be one of my favorites, since it captures her spunk so perfectly.
If you have ever read my articles I hope you know I like to throw little dashes of bad along with the good, just to keep it real. Well, my final memory is one that is a little less sunshine and rainbows and a little more "you have got to be kidding me!" One thing my whole family looks forward to in the summer is swimming in our pool. That canít happen without us coming together, as a family, in the Spring to open that pool. It involves a lot of lifting, carrying, pulling, pushing, explaining and yelling. It isnít just opening the pool, it is also bring out patio furniture, a pool pump, pool equipment and toys. It is an extremely long day and although none of us remain the wonderful, loving, pleasant family we usually are, we still come together and accomplish the task. At the end of the day we all apologize, grill something, and enjoy dinner together.
No matter what kind of memories Spring brings. I hope they make you smile! This Spring get outside and make some wonderful, silly, crazy, awkward memories with your kids. Happy Spring!