Mary and her husband Jim had a dog named 'Lucky.'
Lucky was a real character. Whenever Mary and Jim had company come for a weekend visit they would warn their friends to not leave their luggage open because Lucky would help himself to whatever struck his fancy. Inevitably, someone would forget and something would come up missing.
Mary or Jim would go to Lucky's toy box in the basement and there the treasure would be, amid all of Lucky's other favorite toys. Lucky always stashed his finds in his toy box and he was very particular that his toys stay in the box.
It happened that Mary found out she had breast cancer. Something told her she was going to die of this disease....in fact, she was just sure it was fatal. She scheduled the double mastectomy, fear riding her shoulders.
The night before she was to go to the hospital she cuddled with Lucky. A thought struck her...what would happen to Lucky? Although the three-year-old dog liked Jim, he was Mary's dog through and through. If I die, Lucky will be abandoned, Mary thought. He won't understand that I didn't want to leave him. The thought made her sadder than thinking of her own death.
The double mastectomy was harder on Mary than her doctors had anticipated and Mary was hospitalized for over two weeks. Jim took Lucky for his evening walk faithfully, but the little dog just drooped, whining and miserable.
Finally the day came for Mary to leave the hospital. When she arrived home, Mary was so exhausted she couldn't even make it up the steps to her bedroom.
Jim made his wife comfortable on the couch and left her to nap. Lucky stood watching Mary but he didn't come to her when she called. It made Mary sad but sleep soon overcame her and she dozed.
When Mary woke for a second she couldn't understand what was wrong. She couldn't move her head and her body felt heavy and hot. But panic soon gave way to laughter when Mary realized the problem. She was covered, literally blanketed, with every treasure Lucky owned! While she had slept, the sorrowing dog had made trip after trip to the basement bringing his beloved mistress all his favorite things in life. He had covered her with his love.
Mary forgot about dying. Instead she and Lucky began living again, walking further and further together every day.
It's been 12 years now and Mary is still cancer-free. Lucky? He still steals treasures and stashes them in his toy box but Mary remains his greatest treasure.
Remember....live every day to the fullest. Each minute is a blessing from God.
And never forget....the people who make a difference in our lives are not the ones with the most credentials, the most money, or the most awards. They are the ones that care for us.
Submitted by Mary Jo, Emmitsburg, Md.

Return to: Top of Page, List of Stories to Warm Your Heart, My Little Sister's Jokes
---
A nine-year-old kid sitting at his desk and all of a sudden ...
... there is a puddle between his feet and the front of his pants are wet.
He thinks his heart is going to stop because he cannot possibly imagine how this has happened. It's never happened before, and he knows that when the boys find out he will never hear the end of it. When the girls find out, they'll never speak to him again as long as he lives.
The boy believes his heart is going to stop, he puts his head down and prays this prayer, "Dear God, this is an emergency! I need help now! Five minutes from now I'm dead meat."
He looks up from his prayer and here comes the teacher with a look in her eyes that says he has been discovered.
As the teacher is walking toward him, a classmate named Susie is carrying a goldfish bowl that is filled with water. Susie trips in front of the teacher and inexplicably dumps the bowl of water in the boy's lap.
The boy pretends to be angry, but all the while is saying to himself, "Thank you, Lord! Thank you, Lord!"
Now all of a sudden, instead of being the object of ridicule, the boy is the object of sympathy. The teacher rushes him downstairs and gives him gym shorts to put on while his pants dry out.
All the other children are on their hands and knees cleaning up around his desk.
The sympathy is wonderful. But as life would have it, the ridicule that should have been his has been transferred to someone else - Susie. She tries to help, but they tell her to get out. "You've done enough, you klutz!"
Finally, at the end of the day, as they are waiting for the bus, the boy walks over to Susie and whispers, "You did that on purpose, didn't you?" Susie whispers back, "I wet my pants once too."
May God help us see the opportunities that are always around us to do good.
Submitted by Andy, Gettysburg, Pa.

Return to: Top of Page, List of Stories to Warm Your Heart, My Little Sister's Jokes
---
A female humpback whale had become entangled in a spider web of crab traps and lines.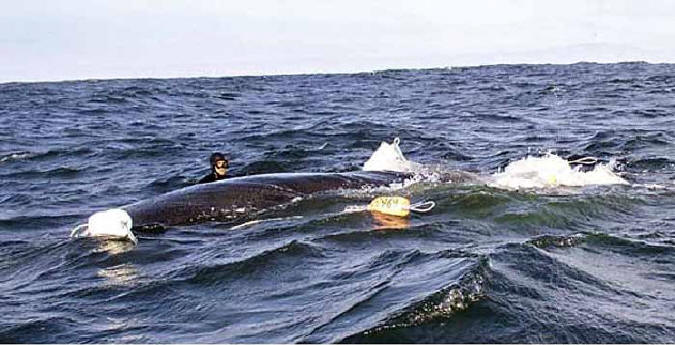 She was weighed down by hundreds of pounds of traps that caused her to struggle to stay afloat. She also had hundreds of yards of line rope wrapped around her body, her tail, her torso, a line tugging in her mouth.
A fisherman spotted her just east of the Farralone Islands (outside the Golden Gate) and radioed an environmental group for help. Within a few hours, the rescue team arrived and determined that she was so bad off, the only way to save her was to dive in and untangle her ... a very dangerous proposition.
One slap of the tail could kill a rescuer.
They worked for hours with curved knives and eventually freed her. When she was free, the divers say she swam in what seemed like joyous circles. She then came back to each and every diver, one at a time, and nudged them, pushed gently around-she thanked them. Some said it was the most incredibly beautiful experience of their lives.
The bloke who cut the rope out of her mouth says her eye was following him the whole time, and he will never be the same.
May you, and all those you love,
be so blessed and fortunate .
to be surrounded by people
who will help you get untangled
from the things that are binding you.
And, may you always know the joy
Submitted by Lindsay, Melbourne, Australia

Return to: Top of Page, List of Stories to Warm Your Heart, My Little Sister's Jokes
---
I am your dog, and I have a little something I'd like to whisper in your ear.
I know that you humans lead busy lives. Some have to work, some have children to raise. It always seems like you are running here and there, often much too fast, often never noticing the truly grand things in life. Look down at me now, while you sit there at your computer. See the way my dark brown eyes look at yours? They are slightly cloudy now. That comes with age. The gray hairs are beginning to ring my soft muzzle.
You smile at me; I see love in your eyes. What do you see in mine? Do you see a spirit? A soul inside, who loves you as no other could in the world? A spirit that would forgive all trespasses of prior wrong doing for just a simple moment of your time? That is all I ask. To slow down, if even for a few minutes to be with me. So many times you have been saddened by the words you read on that screen, of other of my kind, passing. Sometimes we die young and oh so quickly, sometimes so suddenly it wrenches your heart out of your throat. Sometimes, we age so slowly before your eyes that you may not even seem to know until the very end, when we look at you with grizzled muzzles and cataract clouded eyes. Still the love is always there, even when we must take that long sleep, to run free in a distant land.
I may not be here tomorrow; I may not be here next week. Someday you will shed the water from your eyes, that humans have when deep grief fills their souls, and you will be angry at yourself that you did not have just "One more day" with me. Because I love you so, your sorrow touches my spirit and grieves me. We have NOW, together. So come, sit down here next to me on the floor, and look deep into my eyes. What do you see? If you look hard and deep enough we will talk, you and I, heart to heart. Come to me not as "alpha" or as "trainer" or even "Mom or Dad," come to me as a living soul and stroke my fur and let us look deep into one another's eyes, and talk.
I may tell you something about the fun of chasing a tennis ball, or I may tell you something profound about myself, or even life in general. You decided to have me in your life because you wanted a soul to share such things with. Someone very different from you, and here I am. I am a dog, but I am alive. I feel emotion, I feel physical senses, and I can revel in the differences of our spirits and souls. I do not think of you as a "Dog on two feet" -- I know what you are. You are human, in all your quirkiness, and I love you still.
Now, come sit with me, on the floor. Enter my world, and let time slow down if only for 15 minutes. Look deep into my eyes, and whisper to my ears. Speak with your heart, with your joy and I will know your true self. We may not have tomorrow, and life is oh so very short.
--Love, (on behalf of canines everywhere)
Author Unknown
Read
Return to: Top of Page, List of Stories to Warm Your Heart, My Little Sister's Jokes
---