Cole's Cavalry; or Three Years in the Saddle
In the Shenandoah Valley
By C. Armour Newcomer
Chapter One: Introduction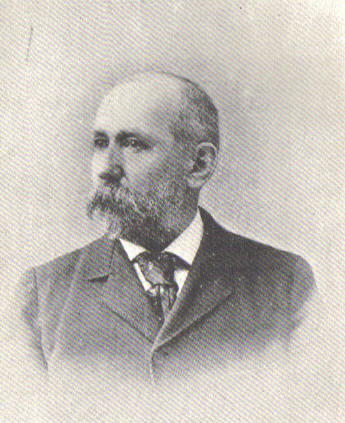 C. Armour Newcomer
The following pages were written at the solicitation of a number of the survivors of Cole's Cavalry, and I herewith present a brief history of this once famous command, confining myself entirely to facts; most of the incidents related coming under my personal observation.
The strong Southern feeling prevailing in Baltimore culminated in a violent outbreak on the 19th of April, 1861. The march of the Sixth Massachusetts Regiment, on their way to the defense of the Nation's Capitol, in response to President Lincoln's call for troops, was obstructed by a mob composed of the baser elements of society, and the troops were attacked in the streets with stones and firearms; many citizens attracted to the scene by curiosity were shot down by the soldiery, which had a tendency to further inflame the excited feeling of the populace. Any one known as an outspoken Unionist, or giving expression to loyal sentiments, was often the subject of insult, and at times of personal violence. A number of citizens, who were opposed to Secession, left the city for safety, myself among the number. I visited relatives in the western part of the State, who were large slave holders and Southern sympathizers, and who endeavored to influence me to cast my fortunes with the Confederacy.
Although connected by ties of birth and blood with the South, I loved my country and flag better than my State or section. A number of my relatives living in the cotton States had already identified themselves with the Southern cause. One of my relatives, (Mr. Rench,) who had not yet crossed the Potomac, tried to persuade me to accompany him, and, failing in this, he started alone and was shot by a Union Picket at Williamsport, Maryland. I resolved to enter the Federal Army and was determined to join the first Cavalry command that was organized in my native State. Since the riot, affairs in Baltimore had assumed an entirely different aspect, owing to the occupancy of the city by the Government forces, under the command of Major General Benjamin F. Butler, and those of us who were compelled to leave so hastily on account of our Union sentiments, now had an opportunity of returning to our homes without fear of molestation.
Chapter Two: Formation of Cole's Cavalry
On the 28th day of August, 1861, myself, with fourteen other young men, enlisted for three years, or during the war. We went to Frederick City, Md., where Company A had already been mustered into the service; Company B was forming in the extreme western part of the State; and Company C had a goodly number on their rolls from Emmitsburg and Gettysburg, Pennsylvania. Company D, the Company I joined, had several more detachments join us from Baltimore City and Howard County, Maryland, which enabled us to be mustered regularly into the service of the United States. At the time of formation, the four Companies, A, B, C, and D, were separate and independent of each other.
Company A elected for their Captain, Henry A. Cole, from Frederick, who, after the consolidation of the Companies, became the Major of the Battalion, and on the reorganization of the command in 1864, became the Colonel of the Regiment, and the command from its formation as a Battalion, was known as Cole's cavalry.
Richard Cooms was made First Lieutenant, George W. F. Vernon was made Second Lieutenant. Lieutenant Vernon later became the Captain of his Company, and on the reorganization in 1864, became Lieutenant Colonel of the Regiment.
Original Members Company A.
Henry A. Cole, Captain. Richard Cooms, First Lieutenant. Geo. W. F. Vernon, Second Lieutenant. Lewis M. Zimmerman, First Sergeant. Geo. W. Lease, Second Sergeant. Isaac T. Devilbiss, Third Sergeant. Martin L. Kaufman, Fourth Sergeant. Edward V. Ganuon, Fifth Sergeant. James W. W. Virts, Sixth Sergeant. John A. Hudson, Seventh Sergeant. Basil H. Alhaugh, Eighth Sergeant. David E. Orrison, First Corporal. William F. Ulrick, Second Corporal. Jeremiah Everly, Third Corporal. James H. McDevitt, Fourth Corporal. Joseph H. Stansbury, Fifth Corporal. Peter J. Caughlin, Sixth Corporal. David Speck, Seventh Corporal. Roland H. Henry, Eighth Corporal. James W. Forsyth, Sadler. John W. Crim, Farrier. Charles W. Beaty, Farrier. David W. Carnes, Wagoner.

Ashmeyer, W. Angelberger, Thos. T. Badeau, Edgar. Betson, Joseph. Bishop, Charles A. Cline, Frederick. Crawford, B. F. Crawford, Joshua M. Cromwell, Arthur H. Crouse, John A. Cubitts, John M. Delict, John J. Dern, Abraham. Dixon, Franklin. Early, John W. Edwards, James. Fogle, Henry. Fogle, Solomon. Fouch, Temple. Fosler, Charles. Fraley, John F. Fry, Martin. Grams, Jonathan C. Grams, Frank D. Hall, John B. Hall, Levi M. Hargett, David Q. Hargett, Geo. B. Harris, Edward V. Harner, Wm. H. Hornie. Christopher. Houck, David. Jacobs, Philip A. Jones, David. Keedy, Walter H. Kelly, John A. Kerns, John. Killian, John. Kintz, Daniel. Kreglo, Isaiah A. Lacoy, Alfred. Manderfield, H. A. Mathews, 0. A. Main, Geo. W. Moore, Edward W. McKnight, Jos. T. Miller, Henry. Miller, John. Murphy, Harvey A. Myers, John. Null, Harvey T. Orrison, Logan. Rice, Job. Rontzahn, Alfred. Shaefer, Chas. Shaefer, Jos. H. Shilt, Samuel D. Smith, Geo. S. Smith, Martin. Smelzer, U. W. Staley, Simon M. Stone, Edward V. Stone, Samuel. Stott, James H. Stottlemeyer, A. J. Sweeney, Chas. Tall, Erasmus. Tinterman, Wm. Tollinger, Geo. Wachter, C. S. Wachter, G. R. Wachter, T. M. Washburn, D. L. Watson, John. Wheeler, Thos, Wilderg, James. Wolf, William. Yoste, C. M. Young, George.
This Company during its service had over two hundred members, the greater portion was wounded, killed or died in prison.
William Firey was selected by the members of Company B as their Captain, John Metz as First Lieutenant, and A. M. Florey as Second Lieutenant.
Original Members Company B.
William Firey, Captain. Albert Metz, First Lieutenant. Alex. M. Florey, Second Lieutenant.

Brush, Jacob. Bell, P. M. Boggs, William. Coppich, Charles. Carpenter, Jonathan. Craft, Andrew. Dick, David. Davis, Thomas. Diel, Reuben. Dennis, Jerry. Donaldson, Thomas. Drake, Benjamin. Ever, Isaac. Filles, Frank. Foos, Gotleib. Fink, Michael. Good, John. Gletner, James. Hoefly, John. High, Kolla. Holland, Daniel. Holland, Joseph. Ira, Isaac. Jones, William. Jackson, John. Johnson, William. Jack, Mathias. Karns, Jacob. Keefer, David. Keefer, Silas. Lucas, William. Links, Henry. Lormon, George U. Miller, Daniel. Myers, John W. Mills, Samuel. Medcalf, Otho. Mann, Wesley B. Mayhew, Harvey. McKinny, Lake. Miller, John. Mills, Amos. Pearl, Keson. Roger, James. Robinett, Mathias. Rivers, Samuel. Rivers, John L. Rockwell, John. Sufacool, William. Sufacool, Joseph. Stine, J. N. Sosey, Abraham. Stoufer, Jacob. Steffey, William. Smith, Harrison. Sleigh, Charles. Strole, Samuel. Smith, Clark. Spitnauss, A. Vance, William. Wiley, Jerry. Wiley, Harrison. Wolf, Hamilton. Weaver, George.
Company B during its service had more than one hundred and seventy-five members, a large percentage was killed, wounded or died in prison.
John Horner was chosen as Captain of Company C, with John M. Annan as First Lieutenant, and Washington Morrison as Second Lieutenant.
Original Members Company C.
John Horner. Captain. John M. Annan, First Lieutenant. Washington Morrison, Second Lieutenant. William A. Horner, Orderly Sergeant. Alexander M. Walker,.Quarter-Master Sergeant. Oscar McMillan, First Sergeant. Samuel J. Maxwell, Second Sergeant. Hiram S. McNair, Third Sergeant. George Guinon, Fourth Sergeant. Oliver Johnson, First Corporal. David W. Longwell, Second Corporal. Andrew A. Annan, Third Corporal. Oliver A. Horner Fourth Corporal. Mosheim S. Plowman, Fifth Corporal. John E. Gibson, Sixth Corporal. John M. Swan, Seventh Corporal. William White, Eighth Corporal. Maxwell J. Cable, First Bugler. Albert M. Hunter, Second Bugler. William B. Wenk, First Farrier. William F. Weikert, Second Farrier. Samuel J. Wolf, Sadler. Peter Wolf, Teamster.

Bennett, Joseph A. Bollar, John A. Buckingham, Henry. Ceise, George. Coyle, John B. Grouse, William A. Currens, William H. Deihl, Martin. Dorsey, Charles F. Duphorn, Thomas W. Fites, Theodore. Flohr, Reuben. Fritchey, Alfred H. Gehr, Henry. Gelwicks, George. Gillelan, George. Gibson, Charles A. Grimes, James. Gettier, Henry. Hartzel, Jacob. Hollebaugh, John Z. Huber, John M. Hughes, Henry. Hizer, Lewis. Jacobs, George W. Kehn, Calvin. King, Hiram. Knott, John E. Lott, William H. McAlister, Theodore. McCullough, James. McPharland, William. Merving, Edwin W. Mcllhenny, William A. McNair, Samuel. Morritz, John N. Morison, Lake B. Myers, Jacob E. Ocker, John H. Keaver, Henry A. Reck, Elias O. Richards, Isaac. Scott, James A. Seitz, John. Shaugheny, John. Sherfey, Thomas B. Shilt, David. Spangler, George. Sponseller, George. Stahl, Jesse. Test, Joseph U. Thomas, Levi E. Turl, Henry. Weigle, Daniel E. Weikert, George W. Welsh, Oliver. Weible, Joseph E. Wills, Joseph H. C. Wilson, Samuel D. Wolford, Thomas. Wolf, John F. Hilleary, Henry C. Bostick, Samuel.
Company C's membership during their service was near two hundred, a large percentage was killed, wounded or taken prisoners. This Company made more changes in their officers than any Company in the command.
Pierce K. Keirl became the Captain of Company D, with Robert Milling as First Lieutenant, and Francis Gallagher as Second Lieutenant.
Original Members Company D.
Pierce K. Keirl, Captain. Robert Millery, First Lieutenant. Francis Gallagher, Second Lieutenant. Stephen George, Orderly Sergeant.

Armstrong, Benjamin. Alt, Conrad. Bennett, Charles. Bennett, Andrew J. Ball, Charles. Ball, Joseph. Boyd, Andrew J. Brown, Thomas. Brown, George. Buford, George. Bowman, William. Bryan, Stephen. Chamber, Geo. W. Cox, Geo. H. Craig, Donald. Casey, James. Craft, John. Davis, Charles. Davis, Lafayette. Dawson, Louis. Dennis, Charles. Edmonds, Esom. Eltonhead, Thomas D. Earnshaw, James. Eddy, John. Forward, Samuel. Frost, John. Fowler, Randolph. George, Stephen. Goff, John W. Gruber, Charles. Grubb, James. Gebbins, Oliver. Godfrey, Thomas. Grogg, William. Howard, Henry. Hngg, Benjamin. Hilleary, Edward. Hitzelberger, William. Hoofnatgle, Charles. Hirshberger, ——— Iseminger, A. Lewis, Arthur. McCauly, Adolphus. McConnell, Duncan. McGregor, William. Mills, Samuel. Mills, Amos. Millholland, William. Marks, Henry. Morris, Ilickman. Newcomer, C. Armour. Nicewarner, Web. 0'Brian, John. Orr, James C. Purden, Charles. Pierce, John Q. Padgett, J. William. Rhodes, Augustus C. Stansbury, John W. Stansbury, Alpheus. Shank, Otho. Smith, William. Sakers, John. Seifert, John. Stewart, William. Stull, Henry. Sigler, Samuel B. Staton, William. Sweitzer, Jeremiah. Steadman, Wm. B. Sullivan, J. W. Trich, Henry. Talbott, Howard. Winters, Harvey. Winters, Win. H. Winters, Warren. Welsh, Wm. H. Welsh, Richard. Wheeland, ———. Wiggans, John. Williams, John B.
Detachment of Recruits Company D, Aug. 19, 1863.
Alien, William. Beal, Robert B. Barthelow, George. Brown, William. Benner, Alonzo. Carr, William. Dele van, Francis. Doherty, John. Good, Joseph. Giles, Edward. Holmes, Hecry C. Hoffman, Henry. Hawk, Thomas. Lanning, James. Lailer, Johnson. McCabe, James E. Moore, John. Nail, William. Pilclier, Joseph. Reindollar, William. Scarlet, Joseph. Smith, William. Smith, Thomas. Turner, William. Valentine, Vincent V.
Company D had more men on its rolls during the war than any Company in the command, numbering over two hundred and fifty. Its loss in killed, wounded and prisoners was two-thirds of its membership.
The Companies were now thoroughly equipped and ready for active service, and were ordered to guard the Potomac River, which in the winter of 1861-62, they were constantly patrolling from Frederick to Cumberland. Company B, under Captain Wm. Firey, was sent to Western Virginia. The boys were commencing to look upon soldiering in a different light from what they did when they left their comfortable homes; the winter was severe, but there was no complaining of the hardships they were compelled to endure.
During the winter General Jackson's forces had made their appearance on the south side of the Potomac, opposite Hancock, Maryland, and on the 7th of January, 1862, had sent a flag of truce to General Landers, the commander of the small body of Federal troops stationed at that point, to surrender the town. Company A of Cole's cavalry were hastily sent from Hagerstown; Company D was patrolling from Hancock to Williamsport; the first Maryland Infantry, Colonel John R. Kenly, was also ordered from Williamsport to join with Landers. A fearful snow storm had set in and the weather was bitterly cold. On arriving at Hancock the Rebels had fallen back, Cole crossed the river and followed through Bath or Berkeley Springs, within a few miles of Winchester, and not coming upon the enemy, returned to Maryland, again crossing the Potomac at Hancock.
I will not attempt to give a detailed history of each Company; but of the incidents which came under my personal observation. The Spring of 1862 had rolled around; troops were being concentrated at different points along the Potomac River. It was rumored there would be a general advance into Virginia, and we were all eager for the command to cross over, and at last the order came. How well I remember the fears that many of us had; we wrote to our friends at home that we were about invading the enemy's country, and it was doubtful if any of us would ever return alive.
In March, 1862, my Company with others, crossed the river with General Williams, at Williamsport. We advanced upon Martinsburg, West Virginia, and without seeing a sign of the enemy we occupied the town. Colonel Ashby's Virginia Cavalry were reported to be in the neighborhood of Winchester, and Captain Cole with Company A, was ordered on a reconnaissance, and at Bunker Hill they came across Ashby's Confederates, who greatly outnumbered Captain Cole; the boys of Company A charged the enemy and were driven back, then commenced their maiden fight, the skirmish was spirited while it lasted; our boys were reinforced by a Company of Infantry, and Colonel Ashby fell back. Captain Cole had his favorite gray mare shot from under him; and a rifle ball cut a lock from his flowing beard. Dennis Stull was killed; Walter H. Keedy and Jonathan D. Grimes were wounded; Captain W. H. Whittleson, Assistant Adjutant General of Williams' Brigade of Banks' Division, had his horse killed under him. The loss of our comrade, and looking upon those that were wounded cast a feeling of sadness over the command, but we soon ceased to mind seeing wounded soldiers and others shot to death.
An amusing incident occurred while encamped near Bunker Hill, which came near proving a very serious affair. The First Maryland Infantry Regiment under Colonel John R. Kenly, afterwards General Kenly, was encamped with others at Bunker Hill, for a few days. There was a distillery close by, and a member of one of the Companies soon discovered there was liquor to be had; the boys filled their camp kettles, and it was not long before a number of the soldiers were drunk. The cook of one of the Companies, had made coffee with half whiskey and half water, and there was quite a number came near dying, after drinking the coffee. (The cook was George McCurley, of Baltimore, who called it "Royal Coffee.") Colonel Kenly placed a guard at the distillery to prevent any one from getting more liquor, but when an examination was made of the premises, not one pint of whiskey was in the building, the boys had gotten in through the rear window, and removed all the liquor whilst the guard had been guarding the front for several days, not knowing he was guarding an empty building; it is needless to say, the guard was sent to his quarters with a reprimand. (The leader of the gang, Sergeant Bill Taylor, afterward captured and confined in "Libby Prison," from which he made his escaped, and after wandering in the mountains for three months, joined his company; and was afterward promoted to a captaincy.)
On March 11th, 1862, General Williams ordered an advance, with Cole's Cavalry in the lead. We came upon the enemy at Stevens' Station, five miles north of Winchester, and for many of us, we were under fire for the first time. Ashby's Cavalry fell back and on the following morning, (Sunday, March 12th, 1862,) Cole's Cavalry charged into Winchester and had the honor of being the first Union troops that had ever been in that historic town. Colonel Ashby was again routed.
At Stevens' Station I was called upon to witness a duel, fought with Cavalry sabers, between two members of my Company, John Chambers, known as "Ginger," a notorious character, who enlisted from and lived at Harper's Ferry, and James Orr. It appears that they had a trifling dispute in reference to their proper position in the skirmish line. I had requested them to stop quarreling and fight the Rebels; they could settle their differences when they encamped for the night; not dreaming my advice would be taken. Chambers was a powerful man, weighing two hundred and fifty pounds; his opponent Orr, had been in the United States Navy prior to the war, and understood the saber exercise. The Brigade had stopped for the night. The principals stripped to the waist, and commenced a deadly coin-bat with their Cavalry sabers; they were on the edge of the camp, with no one to. witness the fight but myself and a few members of Company D. Chambers, being the larger man, was the aggressor, but his cuts and thrusts were skillfully parried. After fighting for some time Chambers made a fearful cut, his opponent's guard was broken and he received an ugly cut on his arm. Both parties being satisfied, they donned their clothing and we all returned to camp. It was some months before the remainder of the Company knew the fight had taken place. Chambers and Orr became fast 'friends for the remainder of their service in the Army.
Chapter Three: The First Battle of Winchester
General Stonewall Jackson came down the Shenandoah Valley. General Shields was now in command of the Union forces at Winchester. The pickets were attacked Saturday morning, March 22, 1862, at Kernstown, three miles south of Winchester, and by evening the skirmish became quite lively, and on the following morning, Sunday, the fight became general. After the battle had been raging all day, General Jackson was beaten back, leaving his dead and wounded on the field; Cole's Cavalry with General Banks' division, who had arrived, followed Jackson for several days. General Banks assumed command, with headquarters at Winchester. Our Cavalry was constantly on the go, with an occasional skirmish with the enemy's Cavalry. General Shields was shot through the body in this engagement but recovered.
Myself, with others of the command, and a detachment of the First Michigan Cavalry, were detailed to act as General Banks' body guard and couriers. The day following the occupancy of Winchester, one of our number, Tom Godfrey, an Irishman, rushed into the quarters, very much excited; we expected to hear some startling bit of news, when he informed the officer in charge of his having wandered into the Medical College and of seeing terrible sights. A number of us concluded to make an investigation, and sure enough a number of subjects were in the dissecting room and one colored lad on the table, partly dissected, the students having left the town on our entrance. It was not long before the building was overrun with soldiers, and many valuable specimens of various kinds found in a medical college were destroyed. One skeleton was supposed to be that of Old John Brown, who was hung a few years prior, or one of his sons, who was executed at the same time, at Charlestown, Va.
The command continued to scout in the surrounding country and was constantly on the move, until Banks' memorable retreat. Cole's battalion brought up the rear; Companies A and C went to Harper's Ferry, and Company D was the last Union troops to cross the Potomac River at Williamsport, having been continuously in the saddle for over thirty-six hours. They were ordered to Hagerstown to rest horses and men. In a few days Company D went to Harper's Ferry, and when the army again advanced, Cole's Cavalry was found in the lead; Jackson had returned up the valley and the command was constantly on the go, contending against small bands of Confederate Cavalry. Mosby's, White's and Harry Gilmor's commands had to be looked after; and Major Cole was kept busy; his headquarters being at Harper's Ferry.
A detachment of twenty men were sent from Company D to Smithfleld, an outpost, fifteen miles from the Ferry, under command of Lieutenant Robert Milling. The men had been in the village several weeks, the citizens showing them every courtesy, inviting them to their homes and entertaining them in the most hospitable manner. The boys lost their usual vigilance. Lieutenant Milling, the officer in charge, with a Sergeant and several men, accepted an invitation to attend a party, several miles from the camp; they were promised a good time. The Lieutenant's head was turned by the persuasion of a beautiful woman. The party was gotten up simply for the purpose of getting the officer from the camp, and the ruse was successful. Captain Baylor, with his Company of Confederates, many of its members from this very town, were notified that the Commanding Officer was absent. Baylor took advantage of the circumstance and charged the camp, capturing thirteen of our number, not however without exchanging a number of shots. Lieutenant Milling was cashiered and dismissed the service. Major Cole who had been out on a scouting expedition with the Battalion, hearing of the capture, hastened to Smithfield, but too late, Captain Baylor with Ms prisoners had gotten away.
Being one of the number captured, I felt somewhat dejected, when it was discovered that the comrades in pursuit failed to overtake us, but I resolved to make the best of it. About midnight our captors halted at a farm house, and placed us prisoners in an outhouse. After securing the door a guard was placed outside, and we were permitted to rest until the following morning, when we were again ordered to mount our horses and rode rapidly in the direction of Woodstock. Finding we were no longer pursued by Major Cole, Captain Baylor ordered a halt.
We were given something to eat, and the prisoners were drawn up in line in front of a farm house, and the farmer's daughter brought us a large milk crock full of soft boiled eggs that were intended for our breakfast; the crock was passed along the line and each prisoner was told to help himself, by drinking the eggs from the crock. When the guard thought one of us had sufficient, he would compel us to pass the vessel to the next man. The boys on the lower end of the line kept calling out for their turn. We got nothing more to eat that day. An amusing incident occurred while taking our egg breakfast. Among our number was an old Irish chap, by the name of Duncan McConnell. Duncan had been up the Valley on one of our many raids and had stopped at this very house, for a drink of water. After having quenched his thirst and was about taking his leave he remarked to the very young lady who had served us with the eggs, that he would like to marry just such a pretty Rebel girl, not thinking at the time that he should ever see her again. The young lady's memory was good, and as soon as she saw Duncan she recognized him and informed her brother, who was one of our captors. The brother naturally was very much incensed, and inquired from the old fellow if he had ever before been up the Valley, and was informed of the charge his sister had made. Duncan most positively denied ever being in this section of the country, and assured the young man, if he was fortunate enough to get out of this scrape, he would never be there again.
The young lady was most positive he was the party who had insulted her, but Duncan's persistent denial got him off. A number of the Rebel Cavalrymen were eager to hang the old man, as they stated it would be a warning to others not to insult their women. After we had gotten some distance on the road, Old Duncan told the boys he had used the language, but it was simply a jest and he had meant no harm.
---
Interested in Cole's Cavalry? Then try our archived edition for a complete listing of Emmitsburg & Gettysburg names: The Solders of Company C, Cole's Cavalry 1861-1865