Operation Iraqi Freedom
1st Lt. Robert Seidel III
Oct. 27, 1982 - May 18, 2006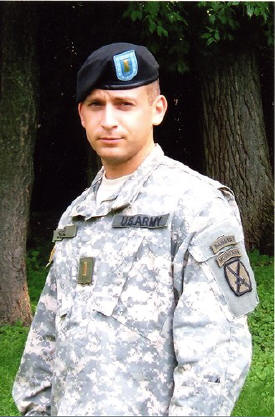 Emmitsburg native U.S. Army 1st Lt. Robert Seidel III was in a Humvee on Thursday when it was struck by an improvised explosive device about 2:30 p.m., said Sandy Seidel, his mother. Ms. Seidel said a lieutenant colonel came to her house in Gettysburg, Pa., on Thursday to inform the family.
Lt. Seidel, a 2000 graduate of Catoctin High School, was a rifle platoon leader with the 2nd Battalion in the 22nd Infantry Regiment of the 10th Mountain Division, out of Fort Drum, N.Y. He graduated from West Point in 2004 Lt. Seidel was also an Army Ranger who was qualified for air assaults.
Rob Seidel is a third generation Emmitsburg resident. He holds the distinction of being the first Emmitsburg resident to graduate from the United States Military Academy at West Point NY. He is currently serving as a rifle platoon leader in Iraq attached to the 10th Mountain Division.
He is the grandson of a former Emmitsburg Mayor, (Prof. Robert Seidel) retired from Mt. St. Mary's College. And he is the nephew of a former Emmitsburg Commissioner (Edward Seidel) who to this day still holds the record of being the youngest person in Frederick County ever elected to a political office at age 18.
"He loved his family first and foremost, but he loves God and his country ... and he died doing that," Mr. Seidel said, choking back tears.
Mr. Seidel said his son liked country music and playing sports like football, baseball and basketball with his brother Stephen. He was an avid Boston Red Sox fan. The Seidels had last spoken with their son on Mother's Day.
Read: Hundreds say goodbye to 'the man for every mission'
If you knew 1st Lt. Robert Seidel III, and would like to see him remembered in
the next History of Emmitsburg, Please send us any stories or
anecdotes about him to us at: history@emmitsburg.net
Revolutionary War Honor Roll
Civil War Honor Roll
World War I Honor Roll
World War II Honor Roll