Now That the Statute of Limitations is Up . . .
Jay 'Mike' Hamlin
I lived on the road that goes west to the Pa. line, about a mile into Pa. Zora was at the intersection of 16 and 116. My mother had bought an old stone house in Zora for $800 in the late twenties, and that's where I was born, delivered by Dr. Rodman Cadle, who had his practice right in his home on the main street.
In 1941, my mother entered me in a one room school house in Zora (population 36). I can remember that in those one room schoolhouses the teacher taught all eight grades, and I was always eavesdropping in on the higher grades. I remember the day the Japanese bombed Pearl Harbor, and that was the main topic of conversation on the school bus on Monday morning, Dec 8, 1941.
We did all our shopping in Emmitsburg. My parents patronized Bernie Boyle's grocery store on the east side of town. Bernie and his whole family worked their 'everlivin' butts off in that store, talk about your Mom and Pop stores. This store was not set up like a super market of today, instead, you were waited on for every item. Because few families at the time could afford freezers, Mr. Boyle had a freezer dept in the back, so his customers could keep meat in there.
We also shopped at Frailey's on the west end of town. Here we bought squabs (young pigeons), and other assorted things. American stores opened a super market self service type with the check out registers, and this probably was the beginning of the end for mom and pop grocery stores, although in a town as small as E-burg, they probably hung on for along time.
Farther down that street was Hayes Hardware. His son, James T. Hayes, went to the same prep school (Mercersburg Academy) that I graduated from, although Jim was considerably older.
Dr. Cadle, who delivered me on 9-6-31 in our house, practiced in the house that the family lived in. Later he acquired a country home near Kumps dam.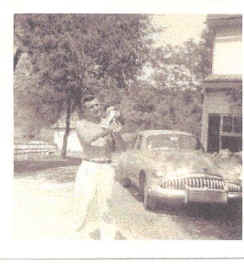 Now that the statute of limitations has expired, I guess I can finally tell the story about the day Mrs. Cadle, who had bought one of the very first convertible Corvettes, drove out to our house to see my mother. They went shopping in my Mom's car. Since Mrs. Cadle was nice enough to let the keys in the ignition, a fraternity brother of mine and I took the Corvette for a spin!!
We had it up to 110 on the sunset trail going to Blue Ridge Summit, but made sure we got it back before the ladies returned. Ah, youth and life in Emmitsburg! [Pictured to the left is Jay and his 49 Buick]
But going back to the early days, I still remember with great pleasure going to the Gem theater every weekend to see the double feature, plus a serial and a cartoon, for about 10 cents. It was in the Gem theater where I got familiar with Gene Autry, Roy Rogers, and all the other western movie biggies. I saw Casablanca and Gone With the Wind in the Gem.
Many times I walked all the way to Emmitsburg, unless someone passing by would give me a lift, and then walk back in the pitch dark.
I met a farm girl named Ruth Miller, and we went to the movies together, holding hands all thru the show, true love at 12 years of age. I've often wondered if she is still around, and how her life went.
There was a bowling alley with a soda fountain in front, right across from the Gem. I also remember Houser's drug store. On the street going to Frederick, the Ford dealer, a liquor store and Welty's where they shoed horses.
On the street going north to Gettysburg, the legion was on top of the hill, and then down at the bottom before going into the country was a beer joint and dance floor, which did a lot of business on Sunday with Pennsylvanians ,who could not drink on Sunday, because of the Pa. blue laws, but Maryland was wide open!
Speaking of beer joints, on the road to Zora was the infamous Blue Duck Inn, which also was very busy on Sunday.
My mother acquired a plot on the cemetery on the hill, and she and two other aunts are buried there, under the same tombstone, with their maiden names of Cain.
I had not seen Emmitsburg from 1953 until just recently when we drove thru there on the way to Gettysburg. We had lunch in a nice restaurant just south of the square, spending 37 bucks for two of us including tip, and the thought that went through my mind when I paid the check was---holy cow, I used to go to the movies for 10 cents, and then go across the street for a coke and a hamburger for another 35 cents!
And I can remember Bernie Boyle delivering 5 bucks worth of groceries to our house a couple of times when my mother was sick in bed, and my stepfather was in the Asiatic theater with the 40th division.
I eventually went to Gettysburg College, and went into the Marine Corps in 1951. When I returned for Korea, I dropped into the Legion for a beer before driving back to Lejeune on a Sunday Eve. Lo and behold, Ruth Miller, now married, was there, and we danced a few numbers, and I then faded into the sunset . . .
After that, I began a career that took me all over the country, and Emmitsburg became a fond, but distant memory. I have been in Fort Myers, Florida, now for 24 years. But the years have not dimmed my fondness for Emmitsburg and the memories it gave me.
If you're a friend of Jay's and want to get in touch with him, e-mail us and will forward it to him!
Have your own memories of growing up in Emmitsburg?
If so, send them to us at history@emmitsburg.net