US "Doughboy" Louis Cook, dies

Originally published on January 14, 1971
Valis County News' Review
Louis G. Cook, 70, a retired Eagle River policeman, died at the Eagle River Memorial hospital of a heart disease Saturday, January 9. While his duties as a police officer here may have followed a more routine pattern his life was marked by several unique developments that gave him notoriety that will live on.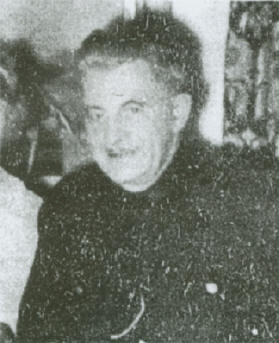 By most in this community Louie was known as a quiet and dedicated officer, always on the job, and ready to assist with the skating programs at the Eagle River Sports Arena. To others he will be remembered for his posing for the famed Statue of an American Doughboy in World War I, and to others as the officer in northern Wisconsin who spotted and reported the sighting of parts of Russian Sputnik IV that distintegrated over Wisconsin.
Other highlights of his career included service in World War I with the US army, a position as a bacteriologist with a group of physicians in Chicago, and service with the US Coast Guard Reserve during World War II.
Born in Eagle River August 17, 1900, Louis Cook attended school here and later at the Milwaukee Normal school and University of Wisconsin in Madison.
POSES FOR STATUE
While at Milwaukee he enlisted in the Army and at that time a friend asked him to pose for a statue he was making ' of the American Doughboy. Louie was selected by the young sculpture because of his build and ability to hold a pose for a long time. Although the sculptor never be-came famous a number of copies of the statue were made and stand at least three conspicuous places to pay tribute to the Doughboys of World War I. They are located in Fort Atkinson, West Bend, Wis., and St. Peters-burgh, Florida. The family has heard of others but are not certain of their location.
Although the facial features of the statue are not real distinct the stance is familiar to the family of Louis Cook. It shows the American soldier carrying a rifle and throwing a hand grenade.
After service he returned to his studies at the UW and became a qualified bacteriologist in 1935, at which time he married his wife, Ethel. For a short while he worked iv Chicago with a group of physicians in this line of work.
JOINS COAST GUARD
During World War II, although too old for military service, he worked in industrial war work at Racine and served with the US Coast Guard Reserve, relieving active Coast Guard personnel from night guard duty.
Often in parades he still wore the Coast Guard uniform of which he was proud.
After returning to Eagle River with his wife they operated a dairy bar at the intersection of highway 70 and 45, south of Eagle River. In the early 1950's he joined the police force, a position in which he continued until his retirement in 1965 at the age of 65. From that time to the present he was a deputy, assisting the county force on special occasions.
While serving with the city police force and also as deputy for the county he had the distinction of spotting the Russian Sputnik as it burned its way across the northern skies, some of the pieces later being located near Manitowoc, Wis.
SIGHTS SPUTNIK
Cook made the sighting while on patrol and immediately re-ported it, noting that he saw 24 flaming pieces pass overhead on a southeast course. His sighting, and others in the state, helped pin point the place of landing. Later Cook received a letter of commendation from the Smithsonian Institution, Washington, D. D.C. for his alertness which contributed toward studies of the path that the Sputnik satellite followed as it re-entered the earth's atmosphere September 5, 1962.
While in Eagle River he was active in the Masonic Lodge No. 248, and assisted with the local skating and hockey program. He served as an announcer at many of the games and was a goal judge as recently as the game just be-fore Christmas, a game he could not finish because of ill health.
He had been seriously ill for about 10 days with multiple medical problems, including a heart ailment.
Survivors, in addition to his wife, Ethel, include a son Jonathon who is with the Wisconsin Physician's Service, the insurance carrier for Medicare. Jonathon married the former Ruth Ann Olson of Sayner, and they are living in Madison.
Funeral services were Monday, January 11 at the Congregational church, Eagle River, with Rev. John Morrison officiating., Masonic services were January 10, and burial was in the Eage River cemetery.
Emmitsburg's World War I Honor Roll
Read the History Behind the Doughboy
Henry T. Huff's: The Real Doughboys
Ed Houcks': Remembering Some of Emmitsburg's Honored Veterans
Do you have your own memories of the Doughboy,
or of the individuals who's names are listed on it?
If so, send them to us at: history@emmitsburg.net