Veteran Profiles
Wing Commander, Eric Ackerman, G.M., R.A.F.
Peter Jackson
Oxford, England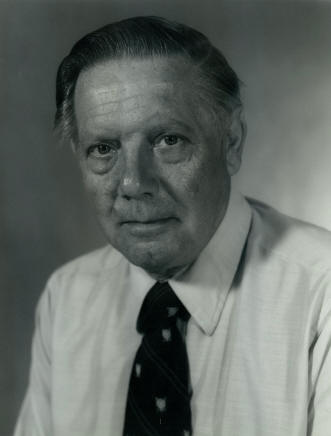 Eric George Ackermann was born in England in 1919. He was a man who not only had a distinguished service record in the Second World War in his own country and but his adoped country, the United States, as well right up to the end of his life. From 1977 until his death in 1986 he lived with his family on his farm just east of Emmitbsurg on Bollinger School Road.
Eric Ackermann was a true hero. He worked behind the scenes, in intelligence gathering, radar, and investigating the German flying bombs. He received the George Medal, a second level decoration, awarded for acts of great courage and bravery. Eric's actions proved that he deserved the honour. During the war gallantry awards were made to many Royal Air Force service personnel, and the citations for these are usually specific, describing a single action or series of actions. With Eric, however, the citation published on 14th January 1944 is vague:
"For three years, Flight Lieutenant Ackermann has been employed on special duties both in this country and the Mediterranean area. He has completed his tasks often under most difficult and dangerous conditions, and the results have been worthy of great praise."
The commendation, not published at the time, says more. These are the key passages:
"Flight Lieutenant Ackermann has been concerned for three years with intelligence regarding enemy radio navigational and radar stations. In September 1940 he was a member of a small party which recognised German radar transmissions. During 1941 and 1942 he flew as an observer on many investigation flights over enemy territory, including more than forty sorties on which bombs were dropped. Many of these involved flying into the heart of the German night fighter defences to ascertain the methods of control, and include detailed observations of night fighter attacks.
Flight Lieutenant Ackermann has volunteered for every dangerous operation connected with obtaining information about German radar stations, and has shown continuous courage, coolness and resource. His observations have been of a high order of accuracy even under difficult and dangerous conditions and of great value to the subsequent programme of radio counter-measures."
He received the medal from King George VI at Buckingham Palace, accompanied by his first wife, Dorothy, who is now 93 and living in London.
Eric's boyhood was happy and uneventful. He qualified as an electrical and electronics engineers to prepare for a career in that field. As war approached he hoped to join the Royal Air Force but was rejected, tjough this blow to his ambitions proved to be a life-changing blessing. In February 1940, five months after the outbreak of war, he joined the Telecommunications Research Establishment T.R.E.), a government body responsible for developing radar for defence against aerial attack and jamming or bending the Luftwaffe's radar signals.
After months of inaction, the war in the west became real on 10th May when Germany invaded Holland, Belgium, Luxembourg and France whose surrender on 22nd June left the continent opposite the south coast of England in enemy hands. Invasion would surely follow with only the pilots of the R.A.F.'s Fighter Command able to prevent disaster. The Luftwaffe had to be destroyed to deny Germany the control of the skies without which invasion would not be feasible. Those whom Churchill called "The Few" had repelled their enemy and the blue uniform of the R.A.F. symbolised the nation's fight for survival. For Eric as a fit young man to be consigned to a civilian role must have been something approaching humiliation. He was not to know what lay ahead.
The unexpected frequently punctuated Eric's life and now the T.R.E. changed it for him by ensuring that on 11th September he received an honorary commission in the R.A.F. This ground-based boffin, rejected by the Air Force the year before, was now flying over enemy territory carrying out the duties his George Medal commendation describes. His first flight was on 22nd September and although doubtless nervous, his R.A.F. uniform ensured that he would be a Prisoner of War if he was shot down and captured. As a civilian which technically he still was, torture and a concentration camp or execution would have been his fate.
Most of his flights were over France with occasional trips to Holland. He flew in Wellington bombers with a crew of six or seven and brought back information to the scientists at the T.R.E. about German radar which was vital as the Luftwaffe launched its bombing raids throughout the United Kingdom.
It was dangerous work. His aircraft could have been shot down at any time and although he survived a colleague did not. On 5th November 1941 a Wellington on a similar operation to Eric's was attacked over France. All the crew, except for one who escaped, were captured. Three of them eventually reached Stalagluft III at Sagan in Germany, one being Howard Cundall, an
honorary officer doing the same work as Eric. Cundall spent the rest of the war as a P.O.W. but the other two, both aircrew, took part in the Great Escape in March 1944, were captured and were among the fifty escapees captured and shot by the Gestapo. Eric's connection is that he should have been on that flight but was called off it when a senior officer visiting the T.R.E. for a briefing on radar required his presence.
Eric flew until February 1942 when he was needed elsewhere. The only area where the British Army was fighting the enemy was in North Africa where war had been raging since June 1940 with the campaign see-sawing across the vastness of the desert. The climax was reached in October when the British 8th Army defeated the Germans at El Alamein in October, followed in November by Operation Torch, the Anglo/American landing in Algiers. El Alamein in the east and Torch in the west now trapped the German forces between the two fronts. Final victory was won the following May, though Eric had been in Algiers since the time of Torch working on signals intelligence, (Sigint), which had been tested and found wanting during Torch. Although it was a new field for Eric he worked to energise the responsible units in Algeria and Tunisia and improve their performance, travelling into the desert to inspect the more remote listening units while also working on his own field of radar, preparing for the next stage of the campaign, the invasions of Sicily and Italy.
He was virtually free-lance at this time, answerable to his masters in London and irritating senior R.A.F. officers who had no control over him. He was, to use a well-known service phrase "fire-proof". He appeared in the front-line on 9th September 1943, the first day of the invasion of mainland Italy, commanding an American landing craft approaching the beach at Salerno. He dashed shore, examined some German radar stations and dashed back to re-join the mother ship. This was odd – how did an English R.A.F. officer get to command an American ship? U.K. records do not say.
After the invasion Eric remained in Italy until the spring of 1944 when he returned to England in time for the next big operation, the invasion of France. What happened then is vague – much of Eric's career is. His son Nick believes he was there on D-Day, 6th June, but the official files do not confirm this. Nick also believes that his father was with the U.S. forces and had "set up radio/radar intercept networks as commander of the entire U.K. effort". This could be right. He had resolved the signals muddle in North Africa and could do the same in France.
As the allied forces advanced through France, Belgium and Holland, Eric moved with them, commanding the Signals Investigation Unit and co-ordinating Sigint near the German border. When the American army crossed the Rhine at Remagen in March, 1945 Eric's war was virtually at an end.
There followed another remarkable period. Eric stayed in Germany until 1958 setting up a network of intercept stations and establishing strong links with the American forces, leading to the third and final phase of his extraordinary life – a Cold War Warrior – which we will cover in a future edition.
Read other Veteran Profiles
Ruth Richard's: Emmitsburg During World War II
LtCdr Hillman's: 50 Yard Line Seats for a Show I Would Rather Have Missed
Revolutionary War Honor Roll
Civil War Honor Roll
World War I Honor Roll
World War II Honor Roll