World War II Honor Roll
Ralph F. Kelly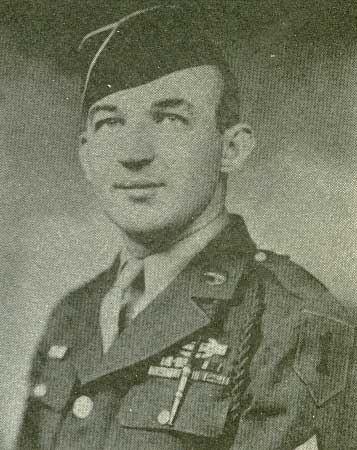 Date of Induction-January 28, 1942
Branch of service-Army, Company I, 16th Infantry
Trained at Camp Wheeler, Georgia; Camp Blanding, Florida;
Fort Benning, Georgia; Indiantown Gap, Pennsylvania
Date of Embarkation-August 2, 1942
Served in European Theatre--Algeria, French Morocco, Tunisia, Central Europe, Ardennes, Rhineland, Northern France, Sicily, Normandy
Medals Earned-Silver Star; Oak Leaf Cluster; Bronze Star W/Oak Leaf Cluster; Purple Heart W/Oak Leaf Cluster; Good Conduct Medal; Combat Infantry Badge Returned to States-August 10, 1945
Discharged-August 14, 1945, Fort Meade, Maryland
Rank-Technical Sergeant
Served-42 months
Wife-Betty Kelly
Son - David Eugene Kelly, Daughter - Sharon
---
Emmitsburg's own "Commando Kelly"
Originally published in the Emmitsburg Chronicle in 1945
Emmitsburg's own "Commando Kelly" is now spending a 30 day leave at his home on S. Seaton Ave., after returning for more than 2 ˝ years service overseas.
The Emmitsburg soldier is staff Sgt. Ralph Kelly, 26 son of Mr. and Mrs. Martin Kelly, and his career in the Army closely parallels that of the winner of the Congressional Medal of Honor from Pittsburgh.
Although his honors do not include the Congressional medal-highest award to any of the Armed Forces - Sgt. Kelly's decorations include enough of the ribbons to weigh down his tunic.
Twice wounded
He has been awarded two Silver Star Medals for gallantry in action, a Bronze Star Medal, an award given only to the infantry soldiers; the Combat Infantrymen Badge, the Silver Rifle and Wreath Badge that can be worn only by infantry soldiers fighting in the field; the Good Conduct Medal; two Purple Heart Medals for wounds received in battle; a Presidential citation, and the European Theater of Operations ribbon with five battle stars for different invasions and offensive actions.
Sgt. Kelly is a veteran of fighting in Africa, Sicily, France, Belgium, and Germany, and trained for while in England. He returned this week from Germany where he was fighting with the First Division of the First Army.
The Emmitsburg soldier join the Army three years ago and train with First Division troops at Camp Wheeler Georgia before going overseas. Because he was assigned to the veteran division, he went overseas after just six months training in this country.
Two Silver Stars with Citations
He first bought in Africa and then went with invading forces into Sicily. It was in Sicily that he took part in action that one for him his Silver Star awards. The citation accompanying the first metal, which was for action near Troina, Sicily on August 6, 1943, reads in part as follows:
"Although his machine gun was isolated from the rest of his company and was bearing the brunt of an enemy counterattack, charging Kelly refused to leave his position. Despite the ferocity of the enemy attacked and the fact that his ammunition was seriously depleted, Sgt. Kelly continued firing upon the enemy inflicted serious casualties."
Starting Kelly was awarded the Oak Leaf Cluster in Lieu of the second Silver Star Medal for action in the vicinity of Gela, Sicily. Accompanying the cluster was a citation which reads in part:
"During a fierce engagement with the enemy, Sgt. Kelly observed a wounded soldier lying in an open field and in grave danger of receiving further injury. Without hesitation Sgt. Kelly left his place of concealment, proceeded to the wounded man's aid, and carried him to safety"
After fighting m witness division in Sicily archer went to England where he trained for while and then went into France on D-Day with the invasion forces. He fought across Europe into Germany from where he was sent home on furlough on the rotation plan now in force.
Sgt. Kelly received his first wound in Africa in November 1942 when he was struck in the right leg with a piece of shrapnel. His second one was received in Germany last November when he was struck in the left arm by another piece of shrapnel. Both of his wounds were comparatively minor, however, a spent only about a month combined in hospitals recovering from them.
A graduate of the Emmitsburg high school, Sgt. Kelly worked at the Taneytown plan of the Blue Ridge Rubber Co. before entering the service.
If you knew this individual, and would like to see them remembered in
the next History of Emmitsburg, Please send us any stories or
anecdotes about them to us at: history@emmitsburg.net
Ruth Richards': Emmitsburg During World War II
LtCdr Hillman's: 50 Yard Line Seats for a Show I Would Rather Have Missed
Revolutionary War Honor Roll
Civil War Honor Roll
World War I Honor Roll
World War II Honor Roll