Mary E. Boyle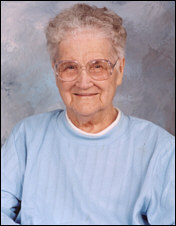 Mary E. Boyle, 93, of North Seton Avenue, Emmitsburg, Md., died Monday, Nov. 18, at St. Catherine's Nursing Center, Emmitsburg.
Born June 9, 1909 in Emmitsburg, she was a daughter of the late William H. and Lucy Lawrence Bollinger. She was predeceased by her husband, Bernard Hugh Boyle, in 1994.
She was a member of St. Joseph's Roman Catholic Church, Emmitsburg, and the Sodality of Blessed Virgin Mary. She was very active in St. Joseph's High School PTA in fundraising. In her early days, she was a homemaker. She and her husband opened B.H. Boyle and Sons Store, Emmitsburg, on May 13, 1933 and operated it for 50 years.
She is survived by four children, Anna Marie Koontz, Loretta B. Sprankle, Patrick B. Boyle and Leo M. Boyle, all of Emmitsburg; 15 grandchildren; 29 great-grandchildren; five great-great-grandchildren; and a number of nieces and nephews.
She was predeceased by a son, Bernard H. Boyle Jr.; and 12 brothers and sisters, Allen Bollinger, William Bollinger, George Bollinger, Elmer Bollinger, Percy Bollinger, Charles Bollinger, Joseph Bollinger, Fannie Wivell, Pauline Stouter, Emma Bollinger, Ruth Hawk, and Francis Bollinger. She was the last of 13 children.
A Mass of Christian Burial will be celebrated at 11 a.m., Friday, Nov. 22 , at St. Joseph's Roman Catholic Church, Emmitsburg, with her pastor, Rev. William O'Brien as celebrant. Interment will be in St. Joseph's Cemetery, Emmitsburg.
---
If you knew this individual, and would like to see them remembered in the next History of Emmitsburg, Please send us any stories or anecdotes about them to us at: history@emmitsburg.net