Mr. Curtis Topper
Mr. Curtis David Topper, 88, of Howard Street, Thurmont, formerly of Emmitsburg, died Monday, February 25, 2002 at Comfort Companion, Taneytown. He was the husband of Anna Myers Topper, who died Oct. 4, 1984.
Born May 20, 1913, in Zora, Pa., he was a son of the late James Lewis and Margaret Florence Topper. Mr. Topper was a member of St. Joseph's Roman Catholic Church, Emmitsburg. He was a member of Knights of Columbus Bruté Council 1860, Emmitsburg, and was a past Grand Knight. He was a member of Bishop McNamara Assembly 4th Degree of Knights of Columbus, Frederick.
He had worked as a carpenter for John H. Hampshire of Baltimore, retiring in 1975. After retirement, he enjoyed woodworking.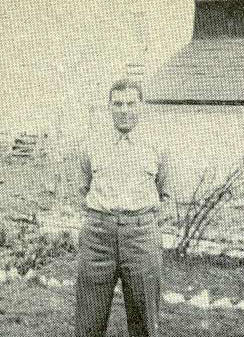 Mr. Topper was a veteran of World War II, serving in the U.S. Army. He was a member of American Legion, Francis X. Elder Post 121, Emmitsburg, where he served as past post commander. He also served as a past Frederick County commander.
Surviving are 10 children, Richard C. Topper and M. Dolores Rodgers, both of Westminster, Anthony D. Topper and Joan F. Tracey, both of Emmitsburg, Michael J. Topper of Hagerstown, Patrick A. Topper of Taneytown, Joseph E. Topper of Manchester, Stephen E. Topper of Lancaster, Pa., Douglas J. Topper of Thurmont, and Susan A. Simmons of Roseboro, NC.; 33 grandchildren; 34 great-grandchildren; and five great-great-grandchildren.
Mr. Topper was preceded in death by two sisters, Julia A. Fitzgerald and Gertrude E. Roberts; and two brothers, Stewart Topper and James L. Topper Jr.
A Mass of Christian Burial was held on March 1 at St. Joseph Roman Catholic Church, Emmitsburg.
---
If you knew this individual, and would like to see them remembered in the next History of Emmitsburg, Please send us any stories or anecdotes about them to us at: history@emmitsburg.net