Mr. Marshall Sanders
As originally published on Saturday, August 20, 2005
Mr. Marshall Leo Sanders, 83, formerly of Emmitsburg, died Friday, August 19 at the Shepherd's Choice, Gettysburg, Pa.

Born February 22, 1922 in Emmitsburg, he was a son of the late Robert H. and Blanche Sprankle Sanders.

He was preceded in death by his wife, Betty Jane Smith Sanders, in 2003 and by a brother, George Robert Sanders.

He was a member of Saint Joseph's Roman Catholic Church in Emmitsburg.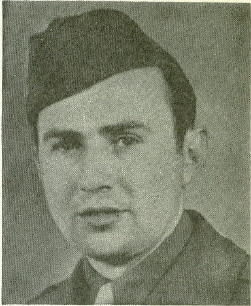 Mr. Sanders was a self-employed farmer and was also in auto sales and service for many years.
Mr. Sanders was in the U.S. Army during W.W.II with the 36th infantry division in Sicily, Italy, France, Austria and Germany. His decorations included four bronze battle stars, a bronze star for valor and a combat infantry badge. He was called back to active service at the outbreak of the Korean War and served with the 24th infantry division. In Korea, he earned two additional bronze battle stars.

Mr. Marshall was a member of the 36th Infantry Division Association, the American Legion Francis X. Elder Post 121 of Emmitsburg, V.F.W. Post 6658 of Emmitsburg, AMVETS Post 172 of Fairfield, Pa., and the Fraternal Order of Eagles Aerie No. 1562 of Gettysburg, Pa.

Surviving are two daughters, Mary Ann Walton of Abilene, Texas, and Sandra Hill of Gilmer, Texas; five grandchildren; three great-grandchildren; and seven brothers and sisters, Anna S. Waysack of Frederick, Rita C. Wiley of Fort Myers, Fla., Thomas W. Sanders of Phoenix, Ariz., Mary C. Bowne of Emmitsburg, Paul A. Sanders of McSherrystown, Pa., Raymond L. Sanders of Gettysburg and John J. Sanders of Cherokee Village, Ark.

A Mass of Christian Burial will be held at 10 a.m. on Tuesday, August 23 from Saint Joseph's Roman Catholic Church, Emmitsburg, with his Pastor Rev. Vincent J. O'Malley, C.M., as the celebrant.

Interment will be in New Saint Joseph's Cemetery, Emmitsburg.


---
If you knew this individual, and would like to see them remembered in the next History of Emmitsburg, Please send us any stories or anecdotes about them to us at: history@emmitsburg.net