1st LT Robert Seidel III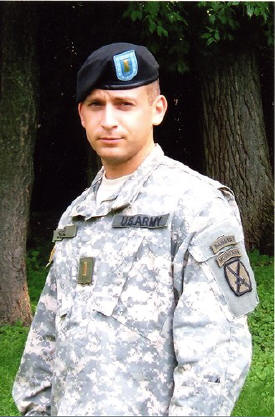 1s Robert "Rob" A. Seidel III, U.S.A., 23, of Gettysburg, Pa. (formerly of Emmitsburg, Md.), died on Thursday, May 18, 2006, in Baghdad, Iraq, while in service to his country.

Born October 27, 1982 in Frederick, Md., he was the son of Robert Jr. and Sandra Giannini Seidel of Gettysburg, Pa.

Rob was a graduate of Catoctin High School, class of 2000 and graduated in 2004 from the U.S. Military Academy of West Point. He was a rifle platoon leader in Company B, 2nd Battalion the 22nd Infantry Regiment of the 10th Mountain Division, out of Ft. Drum, N.Y.

He loved country music and spending time with his friends. He was an altar server for St. Joseph's Catholic Church in younger years, also serving as high school representative for the parish counsel. He played football and baseball for Catoctin High School.

In addition to his parents, he is survived by his brother, Stephen Seidel of Gettysburg; paternal grandparents, Robert Sr. and Ruth Seidel of Emmitsburg, Md.; maternal grandmother, Arlene Giannini of Thurmont, Md. and his grandfather, the late Donald Giannini; paternal aunts and uncles, Judy and husband Robert Dick of Colorado Springs, Colo., Linda and husband Ken Adelsberger of Gettysburg, Pa, Col. Barbara Gscheidle (retired) of Parrish, Fla., Edward Seidel of Johnson City, Tenn., Richard Seidel of Frederick, Md., Mary and husband Tom Bradford of Suffolk, Va., Teresa and husband Edward Wyatt of Olney, Md., Carol Seipler of Blue Ridge Summit, Pa. and Francis and wife Nicole Seidel of Gettysburg, Pa.; maternal aunts and uncles, Cindy and the late Frank Marshall of Emmitsburg, Md., Linda Giannini and fiancˇ John Curley of Blue Ridge Summit, Pa., Arlene and husband Larry Pittinger of Emmitsburg, Md. and Peter and wife Joyce Giannini of Hanover, Pa. He is also survived by many cousins.

He was preceded in death by uncles David and Edward Giannini and Frank Marshall and a cousin, Robert Adelsberger.

Friends may call at the Stauffer Funeral Home, 104 E. Main St., Thurmont, Md. on Saturday, May 27 and Sunday May 28, from 9 a.m. to 9 p.m., where the family will receive friends Sunday, May 28, 2006 from 2 to 4 and 7 to 9 p.m. Mass of Christian Burial will be celebrated on Monday, May 29, at 11 a.m. from the Basilica of the National Shrine of Saint Elizabeth Ann Seton, 333 South Seton Avenue, Emmitsburg, Md. Bishop Francis Malooly will preside, with Rev. James Kiernan as celebrant, assisted by Father Vincent O'Malley and Father Stephen Trzecieski. Interment will be at St. Joseph Cemetery, Emmitsburg, Md.
---
If you knew this individual, and would like to see them remembered in the next History of Emmitsburg, Please send us any stories or anecdotes about them to us at: history@emmitsburg.net