Guy Long
Wednesday, December 10, 2008 7:57 AM EST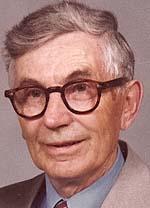 Guy Louis Long, age 97, of Emmitsburg, Maryland, passed away peacefully on Monday, December 8, 2008 at the Genesis Health Care Gettysburg Center in Gettysburg.
Born August 28, 1911 in Emmitsburg, Md., he was the son of the late Edward Phillip and Lula Etta (Harbaugh) Long. He was predeceased by his wife of 46 years, Mildred "Dolly" Ida (Six) Long.
Guy was a veteran of W.W.II, serving in the U.S. Army, 2nd Infantry Division. He was in the European Theater and participated in the D-Day invasion of Normandy, receiving the Purple Heart for combat wounds. He was a life member of the Keysville United Church of Christ. He was retired in 1985 after forty years service as a truck driver with the former Cambridge Rubber Factory in Taneytown, Md. Guy dearly loved his grandchildren and great-grandchildren. He was an avid gardener, loved animals, and was a Baltimore Orioles fan.
Surviving are a son, Thomas E. Long, Sr., and wife Sue of Emmitsburg, Md.; a daughter, Susan I. Wireman and husband Wayne of Monrovia, Md.; eight grandchildren, Heather White and companion Daniel Fitzgerald of Thurmont, Md., Chad Shaffer and wife Kim, Stacey Hausler and husband Richard, and Shari Stone and husband David, Jr., all of Fairfield, Thomas E. Long, Jr. and friend Niki Eyler and daughter, Addison of Thurmont, Md., Derek Wireman and wife Suzanne of Frederick, Md., Elliott Wireman and friend Anna Binder of Mt. Airy, Md., and Marcie Rae Wireman and friend Larry Dove of Hagerstown, Md.; 12 great-grandchildren, R.J. Hausler, Michael, Matthew, and McKayla White, Kacey, Kamryn, and Christopher Shaffer, David III, Alexander, Andrew, Kyle and Kaylee Stone; two sisters, Mae Warren, Sylvia Rosensteel and husband George "Gene" both of Fairfield; a sister-in-law, Emily Sixx of Rocky Ridge, Md.; and many nieces and nephews.
He was pre-deceased by an infant daughter at birth in 1947, Virginia, and by siblings, Opal Stambaugh, James Long, Raymond Long, and Pearl Saylor.
A funeral service will be held at 11:00 a.m., on Saturday, December 13, 2008, at Myers-Durboraw Funeral Home, 210 West Main St., Emmitsburg, Md., with his pastor the Rev. John P. Silassy officiating. Interment with military honors will follow in the Keysville Union Cemetery in Keysville, Md., with his granddaughter Marcie Rae Wireman playing Taps. The family will receive friends from 2-4 and 7-9 pm on Friday at the funeral home.
In lieu of flowers, the family requests memorial contributions be made to the Keysville United Church of Christ, 2060 Keysville-Bruceville Rd. Keymar, MD 21757
---
If you knew Guyl, and would like to see him remembered in
the next History of Emmitsburg, Please send us any stories or
anecdotes about him to us at: history@emmitsburg.net