James Sanders
Wednesday, December 10, 2008 7:57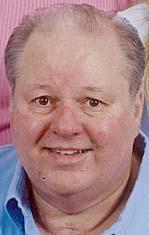 James E. "Jim" Sanders of 3379 Wentworth Place, Iowa City, Iowa, passed away peacefully at Mercy Hospital on Saturday, Dec. 6, 2008, of cancer. This year, Jim celebrated the "35th anniversary of his 28th birthday" and his 40th wedding anniversary.
A Mass of Christian Burial will be celebrated at 10:30 a.m., Saturday, Dec. 13, at St. Joseph's Catholic Church in Emmitsburg, Md. Visitation will be from 3-8 p.m. on Friday at Stauffer Funeral Home in Thurmont, Md. Burial will be in St. Joseph's Cemetery in Emmitsburg, Md.
Jim liked to share that he was born in the White House to Paul and Cecelia (Reese) Sanders on July 3, 1945. The White House was another name for the Sisters of Charity Hospital in Emmitsburg, Md. Jim grew up in Emmitsburg and graduated from St. Joseph's High School in 1963.
On Nov. 16, 1968, Jim and Patricia Elizabeth Stitely were married in Emmitsburg, Md. They went on to have three boys: James (Heidi) of Mooresville, N.C., Kurt (Kirsten) of Lancaster and Paul (Amy) of Iowa City, Iowa. They also enjoy three grandchildren: Mackenzie and Gage Sanders (James) and Kian Sanders (Kurt).
The family has lived in Emmitsburg, Md., Lewisburg, Gurnee, Ill. and Iowa City, Iowa.
Jim earned his associate's degree from Frederick Community College in business management in 1970. He enjoyed lifelong learning, earning over 160 college credits from Mount Saint Mary's in Emmitsburg, Md., Bloomsburg University in Pennsylvania and The University of Iowa in Iowa City. Jim retired from Moore Business Forms in Iowa City in 2004, after working for the company for over 37 years. He was a member of St. Wenceslaus Catholic Church, Iowa City, and attended the Newman Center. Jim was also a member of the Knights of Columbus Marquette Council 842 and treasurer of G.W.L.A.
Jim would want you to know that he was a closet cowboy, watching old spaghetti westerns and listening to country music. He also loved muscle cars and could tell you how to cook an egg on the manifold.
He is survived by his wife, children, grandchildren, brother Charles (Mary) Sanders of Taneytown, Md., half-brother Ron Sanders of Canada, five stepbrothers and five stepsisters and extended family. He was preceded in death by his parents, brothers Paul and Gary and sister, Mary Ann.
Jim was much loved and will be missed by all.
A memorial fund has been established in Jim Sanders' name.
---
If you knew Jim, and would like to see him remembered in
the next History of Emmitsburg, Please send us any stories or
anecdotes about him to us at: history@emmitsburg.net