John Horner
Published: Wednesday, December 3, 2008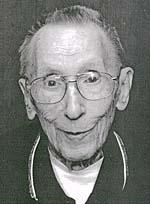 John Horner, 87, of St. Catherine's Nursing Center, Emmitsburg, Md., died Monday, Dec. 1, 2008 in Emmitsburg, Md.
Born Jan. 27, 1921 in Adams County, he was the son of the late Winfield and Naomi C. (Rice) Horner. He was the husband of the late Elizabeth (Spangler) Horner, who died in 2001.
Mr. Horner graduated from the Round Top One Room Schoolhouse in Cumberland Township and later from the Gettysburg High School, Class of 1938. He was a member of St. James Lutheran Church in Gettysburg.
Mr. Horner was a veteran of World War II, serving with the U.S. Army Air Corp., Air Transport Command. He was assigned to the Classified Mail Section Headquarters in Washington, D.C., where on a number of occasions he hand delivered top secret material to the Pentagon. His next assignment was at Harmon Field, Newfoundland, where he was chief clerk to the director of Supply and Services, his main duty was to keep track of fuel consumption, which at times was four million gallons. He was honorably discharged from the U.S. Army in 1946 was a sergeant. He was a member of American Legion Post #262, Biglerville. Mr. Horner's hobbies included Civil War and American Indian History, playing the piano, and was an avid Penn State Fan. He was employed by the Adams County Register and Recorder Office from 1940-1948, and later was employed for many years with the Upper Adams School District.
He is survived by two daughters, Sandy Healy and her husband Lee of Biglerville, Susan Kay Yohe and her companion Art Starner and his son Isaiah of Biglerville; one brother, William H. Horner and his wife Helen "Peach" of Bendersville; six grandchildren, Angela Spotts and her husband Ben of Verona, Va., Shawn Yohe of Mechanicsburg, James Weikert and his wife Michelle of Burke, Va., Christopher Weikert and his wife Kelly of Waynesboro, Eric Healy and his wife Renee of Etters, and Brianne Healy of Camp Hill; six great-grandchildren, Landon, Brady, Lily, Owen, Sydney and Brooklyn; and many nieces and nephews.
He was pre-deceased by a companion, Sally Winters (2005); son-in-law, William "Skip" Yohe (2000); brother, Winfield Horner III; and three sisters, Jeannette Herr, Mary Louise Horner, and E. Lucille Horner.
Funeral services will be held on Saturday, Dec. 6 at 2 p.m. at St. James Lutheran Church in Gettysburg, with the Rev. Michael Allwein, officiating. Interment will be in Evergreen Cemetery, with full military honors. A viewing will be held on Saturday at the church from 1 to 2 p.m. The Monahan Funeral Home in Gettysburg is handling the arrangements.
Memorials may be made to St. Catherine's Nursing Center, Attn: Activities Department, 331 S. Seton Ave., Emmitsburg, MD 21727.
---
If you knew this individual, and would like to see them remembered in the next History of Emmitsburg, Please send us any stories or anecdotes about them to us at: history@emmitsburg.net