Mr. Donald Cool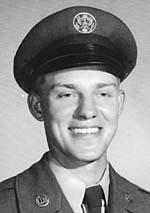 Donald Vincent Cool, 74, of Emmitsburg, died Saturday, Jan. 31, 2009, at the home of his caregivers — sister and brother-in-law, Frances and George Hemler of Taneytown.
Born Feb. 16, 1934 in Emmitsburg, he was the son of the late George Joseph and Alice (Topper) Cool. He was predeceased by his wife, Olia Ann (Ridenour) Cool.
He was a veteran of the U.S. Air Force, and retired as a supervisor of the housekeeping department at Mount St. Mary's University in Emmitsburg. Donald loved to garden, and was a communicant of St. Joseph's Catholic Church in Emmitsburg.
Surviving are step-sons, Guy Ohler and wife Connie of Emmitsburg, Robert Ohler and wife (Valarie) of Tennessee; step-grandchildren, Matt Ohler of Emmitsburg, Kim Hagan of Thurmont, and Josh Ohler of Tenn.; four step-great-grandchildren; brothers, Albert Cool of Emmitsburg, John Richard Cool of Thurmont, Joseph S. Cool of Emmitsburg; sisters, Sister Angela Cool, D.C., of the Provincial House in Emmitsburg, Mildred Sponseller of Hanover, Pa., Thelma Deatherage of Emmitsburg, and Frances Hemler of Taneytown.
Also surviving are many nieces and nephews.
Donald was predeceased by siblings, Lewis Cool, Cletus Cool, Allen D. Cool, Louise Peters, and Mary Alice Cool; and by a step-grandson, John Ohler.
A memorial mass will be celebrated at 11 a.m. Saturday, Feb. 7, at St. Joseph's Catholic Church, Emmitsburg. Rev. Father Paul M. Murphy, C.M. will serve as celebrant.
Inurnment will follow in Weller's United Methodist Church Cemetery in Thurmont. The family will receive friends from 10 a.m., until the time of service on Saturday at the church.
---
If you knew Loretta, and would like to see her remembered
in the next History of Emmitsburg, Please send us any stories or
anecdotes about her to us at: history@emmitsburg.net