James 'Ed' E. Wantz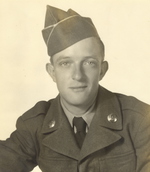 James "Ed" Edward Wantz, 77, of Emmitsburg, Md. died on Tuesday, June 9, 2009 at his home.
Born Oct. 10, 1931 in Emmitsburg, Md., he was the son of the late John Harry and Annie Elizabeth Eyler Wantz.
Mr. Wantz served his country in the U.S. Army and was a member of the American Legion Post 121 and the V.F.W. #6658, both of Emmitsburg, Md. He retired from W. F. Wilson and Sons as a utility pipe layer.
Surviving is a sister, Mary Jean Houck of Emmitsburg, Md. He is also survived by many nieces, nephews and great-nieces and -nephews.
Mr. Wantz was preceded in death by his brothers and sisters, John J. Wantz Sr., Mildred Glass, Eva Fringer and David B. Wantz Sr.
Pallbearers were Dave Wantz, John Wantz, Steve Wantz, Chad Houck, Shawn Ott and Marc Houck.
---
If you knew Ed, and would like to see him remembered
in the next History of Emmitsburg, Please send us any stories or
anecdotes about him to us at: history@emmitsburg.net