Mrs. Peninah 'Polly' Morrison McNair Smith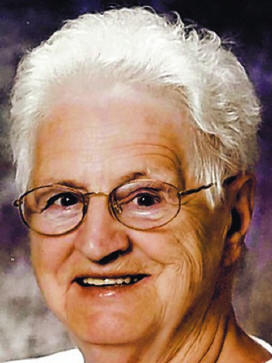 Peninah "Polly" Morrison McNair Smith, 78, of Woodsboro, died peacefully Saturday, Aug. 7, 2010, at her home due to complications from a major stroke. Born Feb. 2, 1932, and raised in Emmitsburg, she was the daughter of the late Harry and Helen Baumgardner McNair. She was the wife of Donald Paul Smith, whom she married Dec. 25, 1950.
Mrs. Smith was a 1950 graduate of Emmitsburg High School, where she enjoyed playing basketball. Polly was a true farmer's wife and was very proud of Dublin Hills Farm where she and Don lived for almost 60 years.
From working in the fields, helping milk the cows, raising three children and running a household, work was never shied away from. Her hands never knew idle time and she liked it that way. Polly was definitely known for the magic that she could create in a kitchen. It brought her great joy to try a new recipe and share it with someone. She made good old country cooking taste even better, but will be remembered mostly for her desserts, especially cookies, which have delighted family, friends, neighbors and even the staff at her regular doctor's visits.
Those same busy hands have helped raise and care for her grandchildren and great-grandchildren, which brought her a tremendous amount of joy.
Over the years, she enjoyed her time spent entertaining, playing cards with the card group, Mexican Train, going to dances, creating a variety of crafts and crocheting the most beautiful baby blankets.
She loved her winters in Florida and sharing time with friends there and traveling to California to visit her sisters. Polly also had a fondness for watching the birds that would feed outside her window, especially her hummingbirds. Her quiet strength and helping ways will be missed by all who knew and loved her.
The family would like to thank Pastor Dot Lundgren of the Woodsboro Evangelical Lutheran Church, where Polly was a member, for all of her emotional and spiritual support.
Surviving in addition to her husband are three children, Donna Kolb, Dennis Smith and wife, Robin, and Anita Koontz and husband, Tom, all of Woodsboro; 11 grandchildren, Jamison Kolb of Woodsboro, Andrew Kolb of Richmond, Va., Bradley Kolb of Columbia, Pa., Melissa Kolb of Union Bridge, Dustin Kolb of Woodsboro, Stacey White of Thurmont, Shanna Lasley of Rockville, Aimee Liller of Buckeystown, Allen Smith of Frederick, and Alexa Koontz and Riggin Koontz, both of Woodsboro; four great-grandchildren, Nichelle Upton, Haley Kolb, Madison Bassler and Rylee Bassler; siblings, Rebecca Wisotkzey of Hanover, Pa., Alice Campbell and husband, Claude, of Clovis, Calif., Paul McNair and wife, Evelyn, of Taneytown, and Carolyn Tarantino of Littlestown, Pa.; brother-in-law and sister-in-law, William Burns of Long Beach, Calif., and Mildred McNair of York, Pa.; and numerous nieces and nephews.
She was predeceased by siblings, Helen Neely, Mary Burns, Patricia Svehla and Harry Tom McNair.
---
If you knew Loretta, and would like to see her remembered
in the next History of Emmitsburg, Please send us any stories or
anecdotes about her to us at: history@emmitsburg.net