Leo B. 'Jack' Topper Jr.
As originally published on Sunday, January 2, 2011.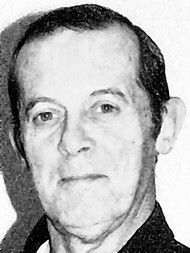 Leo B. "Jack" Topper Jr., 65, of Emmitsburg, died Saturday, Jan. 1, 2011, at Copper Ridge in Sykesville, following a battle with complications from Alzheimer's disease.
Born June 29, 1945, in Frederick, he was the son of the late Leo and Anna Mae (Gelwicks) Topper. He is survived by his wife of 43 years, Mary L. (Knott) Topper.
Jack was a graduate of St. Joseph's High School and Mount St. Mary's University as well as a communicant of St. Joseph's Catholic Church in Emmitsburg. He was retired after 25 years, employed as the vice president of business and finance with Mount St. Mary's University in Emmitsburg. Jack enjoyed golfing, bowling, home repair work and spending time with his grandchildren. He was also involved in the local baseball league as a coach, manager and umpire.
Surviving in addition to his wife are children, Jeffrey Topper Sr. and wife Theresa of Emmitsburg, Sandra Umbel and husband Chad of Emmitsburg and Mark Topper and wife Sherry of Rocky Ridge; grandchildren, Zach, Jay, Brian, Courtney and Melanie Topper, Justin, Ben, and Stephanie Andrew, and Kayla Umbel; great-grandson, Brayden Andrew; and brother, Philip Topper Sr. and wife Therese of Emmitsburg.
---
If you knew Leo, and would like to see him remembered
in the next History of Emmitsburg, Please send us any stories or
anecdotes about him to us at: history@emmitsburg.net