Mr. Robert E. Mumma
As originally published on Tuesday, July 2, 2011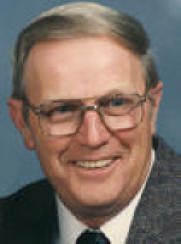 Born in Rocky Ridge on January 7, 1937, he was the 3rd son of the late Charles L. and Ethel M. (Valentine) Mumma. He spent the last 44 of their 55 years of marriage in Rocky Ridge with his loving wife, Betty Ann (Glass) Mumma. Their daughter, Debra Ann Mumma from Alameda, CA also survives.
Bob helped form the Mumma & Baker Concrete Contractors business with friend, Ralph Baker and brother, Kenneth in 1962. After 17 years in business, he accepted a maintenance supervisory position at the National Emergency Training Center in Emmitsburg from 1979 until 2002, when he retired. Bob enjoyed vacations with family, collecting antique clocks, baseball cards, replica fire engine models, watching the Baltimore Orioles and the Maryland Terrapins.
He was a very active, life long member of the Mt. Tabor Lutheran Church in Rocky Ridge. He unselfishly gave his time and talents to serve numerous terms on the church council, many in leadership roles. In 1969, he was instrumental in spearheading a drive to have a memorial carillon placed in the church in memory of a fallen church member killed in the Vietnam conflict. It was noted to be the only memorial in the United States, dedicated to a fallen hero.
Bob joined the Rocky Ridge Volunteer Fire Company in 1953. His leadership abilities became obvious when he continued to be a top firefighter for 25 years. Fundraising for new equipment or a new building became a vital part of his duties. He readily assumed the Fire chief's responsibilities from 1980 to 1993. In 1994, he relinquished the Chief's position to become President. During his tenure, a new station was proposed, built and dedicated in 1997. Bob designed a plan to abolish the existing mortgage on the new fire house by 2004. After an abrupt closing of the local post office, he worked closely with postal representatives and federal legislators to restore the service to the community by offering a portion of the fire company building to the U.S. Postal Service at a minimal amount. The postal service was restored at that location in 1991. Bob was the recipient of every possible award presented by his company.
He served many terms as a trustee on the Frederick County Fire and Rescue Association's Executive board. Working his way through the ranks, he became their president in 1979-1980.
After serving many years on several committees for the Md. State Firemen's Association, he was asked to be a member of the state association executive board. He was his company's lead delegate to the state convention for 37 years. Bob was inducted into the county and state Halls of Fame. His magnetic, persuasive personality allowed him the leadership qualities to accomplish so much for the community he loved.
The family wishes to extend the most sincere love and gratitude to the wonderful support from neighbors, family, friends, special caring personnel from Gettysburg Hospital, Carroll Hospital Center, Health South-Mechanicsburg, Union Memorial Hospital, Genesis Health Center-Gettysburg and Lorien-Taneytown Nursing and Rehabilitation Center.
Along with his wife and daughter, he is survived by brothers and sisters in-law, Betty L. Mumma, Bill and Mary Glass, Jim and Doris Glass, Velma Stambaugh, Leroy and Carolyn Coshun, Dennis and Patty McGlaughlin, Nancy Baker, Gary and Wanda Glass, Larry and Sue Glass and Mike and Barbara Glass. Several nieces and nephews also survive. He was predeceased by brother and sister-in-law, Charles and Helen Mumma and brother, Kenneth Mumma.
Pallbearers will be fire company personnel, Steve Wolfe, Luke Humeriek, Alan Hurley, Don Kaas, Dennis Mathias, Jim Rice, Leon Stover, Jr. and Steve Whetzel. Honorary pallbearers will include: Carroll Albaugh, Kevin Albaugh, Dale Kline, Bun Wivell, Larry Eyler, Charles Riggs, Kenneth Sharrer, Harold Ehart, Jr. and Jerry Free.
---
If you knew Bob, and would like to see him remembered
in the next History of Emmitsburg, Please send us any stories or
anecdotes about him to us at: history@emmitsburg.net