Mr. Jason E. Sanders
As originally published on Tuesday, February 8, 2011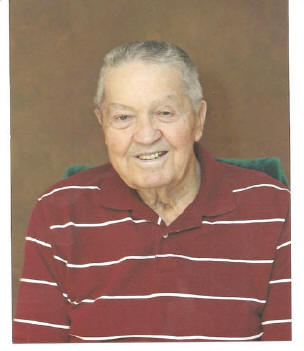 Jason E. Sanders, 89, of Emmitsburg died Monday, Feb. 7, 2011. Born Nov. 4, 1921, in Fairfield, Pa., he was the son of the late Jason M. and Lottie (Reed) Sanders. He was the husband of the late Mary Elizabeth (Keckler) Sanders whom he married May 2, 1942.
He was owner/operator of Jason Sanders Plumbing and Heating in Emmitsburg for more than 35 years. He was a member of the Emmitsburg United Church of Christ and a founding member of the Indian Conservation Club of Emmitsburg. He was a veteran of World War II, serving from 1942 to 1946 as an airplane and engine mechanic and an instrument specialist. During the war he served six months on Tinian Island where the flight of the Enola Gay originated.
He was an avid hunter and fisherman, a master gardener, and enjoyed spending time with his grandchildren prior to his illness.
He is survived by daughter, Joyce Valentine and husband, Jeffery, of Baltimore; grandchildren, Joshua Wayne Valentine and Amanda Joy Valentine of Baltimore, and Jennifer Gwen Nallo of Westminster; great-granddaughter, Sara Joy Nallo; sister, Maysie Riley of Chambersburg, Pa.; and brothers, Harold Sanders of Tennessee and Robert Sanders of Florida. He was predeceased by sisters, Ibby, Arlene and Marie; and by brothers, Julian and Sterling.
A memorial service will be announced at a later date.
Interment will be private.
---
If you knew Jason, and would like to see him remembered
in the next History of Emmitsburg, Please send us any stories or
anecdotes about him to us at: history@emmitsburg.net