Albert "Wayne" McCleaf
As originally published on Saturday, May 25, 2012.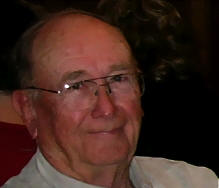 Albert Wayne McCleaf, age 85, of Emmitsburg, Maryland passed away peacefully Tuesday, May 15, 2012 at his home surrounded by his loving family. Born September 1, 1926 in Waynesboro, PA, he was the son of the late Albert William & Elizabeth Amelia Eiker McCleaf. He was the husband of Josephine Welty McCleaf, his wife of 57 years.

Wayne served his country proudly from November 15, 1944 to October 1, 1946. He was a Demolition Specialist and a qualified Paratrooper in the United States Army, where he earned a Good Conduct Medal, Asiatic-Pacific Theatre Ribbon, Philippine Liberation Ribbon, Army Occupation Medal and the World War II Victory Ribbon.

Wayne was a faithful and dedicated employee of the United States Postal Service, working as a rural mail carrier for the Emmitsburg Post Office for 26 years. He was a member of Elias Evangelical Lutheran Church in Emmitsburg. During retirement, he enjoyed family barbeques and gatherings, playing golf, working in his yard, watching baseball, football, NASCAR and golf tournaments on his big-screen TV while relaxing in his recliner. He was an avid Baltimore Ravens fan. Wayne will always be remembered by his family as a devoted and loving husband, father & grandfather.

Surviving in addition to his wife are daughter, Valerie Ryder & husband, Dave, of Littlestown, PA; son, David McCleaf & wife, Terri, of Woodsboro; brother, Jack McCleaf & wife, Anna Marie, of Columbia; grandchildren, Bryan Ryder of Frederick, Erin Markin & husband, Chris, of Cambridge, Jennifer Ryder of Emmitsburg, and Shaina McCleaf of Boonsboro; great-grandchildren, Kaia Ryder and Isabel Markin; as well as several nieces & nephews.

Funeral services were held at Elias Evangelical Lutheran Church, 100 West North St, Emmitsburg, MD with the Rev. Jon E. Greenstone officiating. Interment was at the Emmitsburg Memorial Cemetery.

In lieu of flowers, memorial contributions may be made to Hospice of Frederick County, P.O. Box 1799, Frederick, MD, 21702 or to Elias Evangelical Lutheran Church, P.O. Box 465, Emmitsburg, MD, 21727.
If you knew Albert, and would like to see him remembered
in the next History of Emmitsburg, Please send us any stories or
anecdotes about him to us at: history@emmitsburg.net