Charles F. "Charlie" Stouter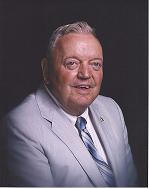 Charles F. "Charlie" Stouter, 87, of Emmitsburg died peacefully on Tuesday, October 23, 2012 at St. Catherine Nursing Center in Emmitsburg. Born February 23, 1925 in Emmitsburg, he was the son of the late Felix and Mary Hardman Stouter. He was the husband of the late Doris Fox Stouter, his wife of 62 years.

Charlie owned and operated C.F. Stouter Oil Company as a Texaco distributor in Emmitsburg for many years. He was a member of St. Joseph Catholic Church in Emmitsburg, the Knights of Columbus, VFW Post 6658, Francis X. Elder American Legion Post 121, the Emmitsburg Lions Club, Vigilant Hose Company, where he served as both Chief and President, and the Emmitsburg Ambulance Company. Charlie was an avid outdoorsman and enjoyed crabbing, hunting, fishing and farming.

Surviving are daughter, Maureen Markle of Hanover, PA; sons, C. Ronald Stouter and wife, Dianne, of Thurmont, Gary Stouter and companion, Brenda Flenner, of Emmitsburg, Bart Stouter and wife, Loretta, of Woodsboro, and Brett Stouter and wife, Terry, of Fairfield, PA; sister, Margie Valentine and brother-in-law, Frank, of Thurmont; 17 grandchildren; several great-grandchildren; and numerous nieces and nephews. He was predeceased by a son, David Stouter, brothers, Bill, Stanley, and Martin Stouter, and sisters, Irene Haley, Mary Florence, Christine Welty, Anna Haley, Edith Paskorus, Ethel Greenholtz, Ruth Wisotzkey, and Hilda Hanlin.

A Mass of Christian Burial was held at St. Joseph Catholic Church, 47 DePaul St., Emmitsburg. Interment was at New St. Joseph Cemetery. Grandsons, Jeff, Mike, Nick, Eric, Christopher, Matthew, and Corey Stouter will serve as pallbearers.

In lieu of flowers, memorial contributions may be made to the Emmitsburg Ambulance Company, 17701 Creamery Rd., Emmitsburg, MD 21727 or to Vigilant Hose Company, P.O. Box 171, Emmitsburg, MD, 21727. Online condolences may be expressed to the family at www.myersdurborawfh.com.
If you knew Charlie, and would like to see him remembered
in the next History of Emmitsburg, Please send us any stories or
anecdotes about him to us at: history@emmitsburg.net