Dolores Henke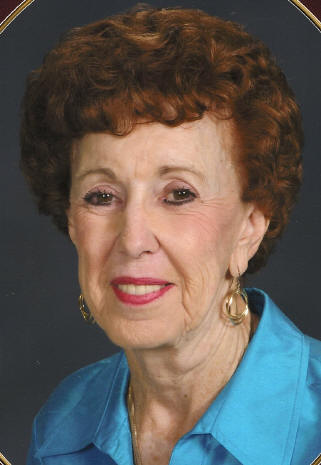 M. Dolores Henke, 83, of Emmitsburg, died peacefully Sunday, August 12, 2012 at Cross Keys Village in New Oxford, PA. Born January 1, 1929 in Gettysburg, PA, she was the daughter of the late Hubert and Gertrude Sebold Joy. She was the wife of the late Robert Henke, Sr. to whom she was married 44 years.
Dolores was a 1946 graduate of St. Joseph College High School in Emmitsburg. She graduated from Mount St. Mary College magna cum laude in 1982, attending night and summer classes while working full-time. She was employed by Mount St. Mary College in 1947 as a secretary in the Registrar and Dean's office, retiring 51 years later in 1998. While employed at the Mount, she met her future husband, Professor Robert Henke. They were subsequently married in 1952.
Dolores was a member of St. Joseph Catholic Church in Emmitsburg and St. Joseph Sodality. She was a charter and life-long member of the Emmitsburg V.F.W. Post 6658 Ladies Auxiliary. She enjoyed music and bi-weekly tennis with her friends. Her greatest joy was her family, in whom she had great pride. Her many trips to France to visit her husband's family and trips to Spain to visit her son-in-law and grandson were among her many happy memories.
Surviving are son, Dr. Robert Henke, Jr. and fiancÚ' Kathy Staub of Hanover, PA; grandchildren, Adrienne and Alex Henke of Hanover, PA, and Miquel Escola of Spain; sister, Gloria Bauerline of Emmitsburg; 4 brothers, Jerry Joy and wife, Dot, of Emmitsburg, Michael Joy and wife, Pat, of Emmitsburg, Donald Joy and wife, Bernadette, of Westminster, and Joseph Joy of Baltimore; as well as many nieces & nephews. She was predeceased by daughter, Yvonne Henke Escola and 4 brothers, Patrick, Kenneth, John and Robert Joy; and infant sister, Rosemary Joy.
A Mass of Christian Burial was held on August 16, 2012 at St. Joseph's Church with the Rev. John Holliday, C.M. as celebrant. Interment was at the new St. Joseph Cemetery. Memorial contributions may be made to St. Joseph Catholic Church, 47 DePaul St. Emmitsburg, MD, 21727 or to Mount St. Mary University, 16300 Old Emmitsburg Rd., Emmitsburg, MD, 21727. Online condolences may be expressed to the family at www.myersdurborawfh.com.
If you knew Dolores, and would like to see her remembered
in the next History of Emmitsburg, Please send us any stories or
anecdotes about her to us at: history@emmitsburg.net