Gilbert V. Eiker, Sr.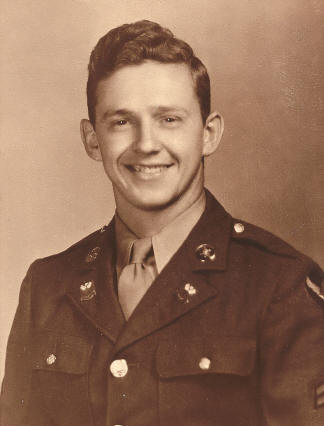 Gilbert V. Eiker, Sr., age 91, life-long resident of Emmitsburg, Maryland, died unexpectedly on Friday, December 21, 2012 at his home.
Born April 26, 1921 in Emmitsburg, Maryland, he was the son of the late Frank Samuel Eiker and Laura (VanSickle) Eiker. He was predeceased by his wife of 64 years, Regina Mary (Lingg) Eiker in 2007.
Gil was a veteran of the U.S. Army, serving as a Tech. Sgt. during WWII in the European Theater, Battle of the Bulge, and was awarded a Bronze Star. He worked as a baker for Mt. St. Mary's University for 22 years, and later worked from 1962 until his retirement for Moore business forms in the maintenance department. He was a proud of his family heritage and to be the grandson of a Civil War Veteran. He was an avid coon and fox hunter, fisherman, and outdoors man. He was a life member of the American Legion Post 121, V.F.W. Post 6658, and the Indian Lookout Conservation Club all of Emmitsburg. In his early years he enjoyed archery along with his brothers.
Surviving are a son, Gilbert V. Eiker, Jr. and wife Rebecca of Rocky Ridge; grandchildren, Brian C. Eiker and wife Jennifer, Barry A. Eiker, and Erin N. Eiker; great-grandchildren, Megan Eiker, Nathaniel and Susannah Krom; numerous nieces and nephews; and special caregivers and friends, Cathy and Tony Redman of Emmitsburg.
He was pre-deceased by a daughter, Lois L. Eiker Sears; and was the last of his immediate family predeceased by 3 brothers and 3 sisters; as well as by a grandson, Steven K. Krom; and great-grandson, Andrew C. Eiker.
Funeral services will be held at 11:00 a.m., on Friday, December 28, 2012 at the Myers-Durboraw Funeral Home, 210 W. Main St., Emmitsburg with John C. Morrill funeral celebrant. Interment with military honors will follow in the New St. Joseph's Cemetery in Emmitsburg. The family will receive friends on Thursday from 2-4 and 7-9 p.m. at the funeral home.
Memorial contributions may be made to the charity of one's choice. Online condolences may be expressed to the family at www.myersdurborawfh.com.
If you knew Gilbert, and would like to see him remembered
in the next History of Emmitsburg, Please send us any stories or
anecdotes about him to us at: history@emmitsburg.net