Mary Ledlie Rial Cunningham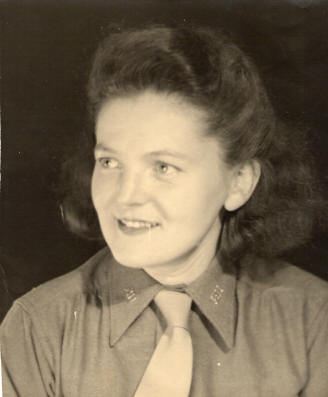 Mary Ledlie Rial Cunningham passed peacefully at home on December 23, 2012 in Oakland. A devoted mother and wonderful friend to so many, Ledlie was born in Pittsburgh to Marie Gloninger and Dr. Bruce Poole Rial on September 7, 1917, the third of four daughters.
Revered as the family "Matriarch," she was the highlight at family gatherings. She started her education in the little red schoolhouse near the Emmitsburg Grotto of Lourdes then moved to Europe with her family where she was educated in Italy, Switzerland then France before returning to Emmitsburg MD to evade the winds of war and graduated from St. Joseph College in Emmitsburg.
Ledlie's fascinating life found its roots in Italy, Switzerland and France where she attended boarding schools and developed her special talents in languages and sport. Her fluency in French, German and Italian not only made her indispensable during family travels in Europe and homework assignments; it made her a valuable asset to the military during and after WWII.
She served as an interpreter and spy for the Office of Strategic Services (OSS). She was trained during the London Blitzkrieg under the tutelage of Arthur Schlesinger, and then carried out post-war assignments in France and Germany.
During the post-war investigations and the prosecution of war crimes in Germany, she translated documents relating to the Catholic Church and the Nazis as well as transcripts from the Nuremberg trials. These experiences and talents, coupled with her philosophical insights into humanity and life, enabled her to make meaningful contributions in her civilian life as well.
She was married on July 8, 1950 to John L. Cunningham, a U. S. Army officer who served in both WW II and the Korean War. During the first ten years of her marriage, she lived in the Washington, DC area and worked for the Red Cross. She accompanied her husband during his assignments to Camp Ritchie, Camp Meade and Ft. Holabird, Maryland and to Oberammergau, Germany for several years.
She resided in the Blue Ridge Summit, PA area from 1968 until the last two years of her life when she moved to California. An active member of her community, Ledlie held volunteer positions at St. Rita's Catholic Church and the Blue Ridge Summit Garden Club. Catholicism was a central theme and a core value she held throughout her life. She loved singing and traveling with the St. Joseph's Church Choir of Emmitsburg.
In 1974, a memorable moment in her life included singing for the canonization of Elizabeth Ann Seton at the Vatican. An additional, special religious experience included a 1987 pilgrimage to Carmel CA where she received communion from Pope John Paul II. In 2004, during the dedication of the WW II Memorial in Washington, DC, she coordinated the foreign language interpreters assisting the non-English speaking attendees.
Ledlie is survived by her six children Larry, James Ledlie, Philip, Francesca, Mark and Christian Cunningham, ten grandchildren and four great-grandchildren. She is predeceased by her husband John, daughter Aileen, grandson Michael and three sisters: Mimi Borst, Rebecca McKenna and Aileen Schwartz.
An eternal optimist with an uncanny ability to overcome adversity, she was the source of great inspiration to those who knew her and witnessed this sterling example of the unfailing human spirit. Her enduring "joie de vivre" knew no bounds.
A graveside ceremony at the St. Anthony Shrine Cemetery on Grotto Road and Memorial Service at St. Anthony's Church, 16150 St. Anthony's Road, Emmitsburg are being scheduled for May 2013.