Mr. George Meade Eyler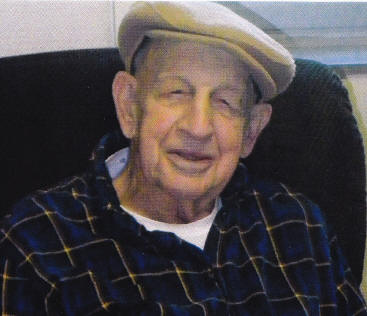 Mr. George Meade Eyler, 100, of Thurmont, Maryland, passed away peacefully on Saturday, December 8, 2012 at St. Catherines Nursing Center in Emmitsburg, with his daughter by his side.
He was the husband of the late Odessa Irene Smith Eyler and his first wife, the late, Dorothy Frances Woodward Eyler. Born September 6, 1912 in Emmitsburg, on the Patterson Farm, he was the son of the late Robert David and Lula Trout Eyler.
Meade graduated from Emmitsburg High School in 1930, living in the surrounding areas his entire life. As a young man he worked with his father on the State Roads around Emmitsburg. Farming was his passion, what he loved most. His last farming was spent on the Ewart Terpenning Farm, North Rt 15 until the 1950's, raising turkeys and steers. One of his proudest moments was showing "Broadhooks Maid" a heifer at the Maryland State Fair, in Towson, winning ribbons.
Meade or "General George Meade" as he was called by some, was known for his storytelling, capturing the attention of those whose families he knew or their ancestors before. He liked to speak of the old days, historical events that took place years ago as a young man, and of course farming. After leaving the farm he worked at Gall and Smith Feed Mill for several years and as a custodian at Thurmont Middle School retiring, after 20 years, in 1978.
He is survived by his daughter Patricia J. Raymond and son-in-law Henry Eugene Raymond of Lovettsville, VA and a host of nieces, nephews and their families. He was preceded in death by his sisters Ruth Fitez, Dorothy Warehime, Elizabeth Hawk and Esther Baker. A special expression of gratitude is extended to those caregivers who cared for Meade at home in Thurmont, during his illness and to his family and friends who visited and supported him during his stay at St. Catherines. Many thanks to St. Catherine's Staff for their empathy, compassion and care.
Funeral services were held at the Elias Evangelical Lutheran Church, Emmitsburg, Saturday, December 15, with Rev. Jon Greenstone officiating. Special sharing memorial of Meade were given by Rodman Myers. Interment Emmitsburg Memorial Cemetery. Active pallbearers were Brian Glass, Brian Riffle, John Hawk, Danny Favorite, Rodman Myers and James Baker, Honorary pallbearers were Clyde Wenschoft, Albert Riffle, Carroll Forney, Sterling Seiss, Joseph Riffle and John Fink.
Contributions may be expressed to the Thurmont Ambulance Company or the the Elias Evangelical Lutheran Church.
If you knew George, and would like to see him remembered
in the next History of Emmitsburg, Please send us any stories or
anecdotes about him to us at: history@emmitsburg.net