Josephine McCleaf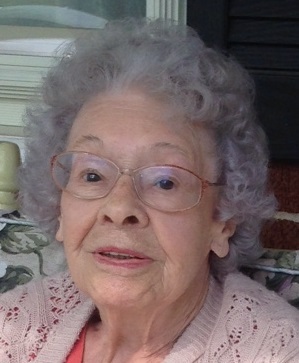 Josephine McCleaf, 96, of Emmitsburg died peacefully Thursday, October 10, 2013 at her home surrounded by her loving family. Born September 12, 1917 in Waynesboro, PA, she was the daughter of the late Earl and Mabel Newcomer Welty. She was the wife of the late Albert "Wayne" McCleaf, to whom she was married for 57 years.
After her mother passed away, Josephine left high school to help provide for her younger brother and sisters. She became a waitress and retail clerk and was employed by various local restaurants and businesses throughout the years. After retiring, she helped babysit her grandchildren, whom she always referred to as "her babies." She was always willing to help anyone in the family at any time. She enjoyed working crossword puzzles, reading the Bible and various novels, and watching old westerns and game shows.
Surviving are daughter, Valerie Ryder and husband Dave of Littlestown, PA; son, David McCleaf and wife Terri of Woodsboro; sisters, Annabelle Roof, Sylvia Gardenhour, Helen Kreitz, Lois Rohr, Dorothy Freeman, and Fay Ranck; grandchildren, Bryan Ryder of Emmitsburg, Erin Markin and husband Chris of Cambridge, Jennifer Ryder of Emmitsburg, and Shaina McCleaf of Frederick; step-granddaughter, April Orlofsky of Columbia; great-grandchildren, Kaia Ryder and Isabel Markin; and many nieces and nephews. She was predeceased by sisters, Ethel Boyer, Lulu McCarney, and Betty Moore, and brother Earl Welty, Jr.
A funeral service will be held at 10 a.m. Monday, October 14 at Catoctin View Seventh Day Adventist Church, 15601 Catoctin Mountain Highway, Thurmont, MD, with Pastor Josh Voigt officiating. Interment will follow at Emmitsburg Memorial Cemetery. The family will receive friends Sunday, 4-7 p.m. at Myers-Durboraw Funeral Home, 210 W. Main St., Emmitsburg, MD.
In lieu of flowers, memorial contributions may be made to Hospice of Frederick County, P.O. Box 1799, Frederick, MD, 21702 or to Catoctin View Seventh Day Adventist Church. Online condolences may be expressed to the family at www.myersdurborawfh.com.