Linnis Glass Dagnin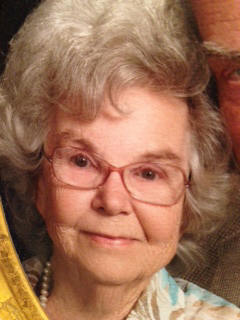 Linnis Glass Dagnin, 86, of Santa Ana, California, died Tuesday, November 19th at St. Joseph 's Hospital, Orange following a short illness, she was surrounded by her loving family and pastor.

Linnis "Lin" was born June 2, 1927, in Rosehill, Virginia. Her parents, Paul C. Glass and Lucy Estelle Davis Glass moved to Emmitsburg, Maryland where they had a dairy and cattle farm. Linnis graduated in 1944 from Emmitsburg High School where her high school newspaper predicted she would move to California. After nurses training she did move to California in 1947 to the San Fernando Valley and met the love of her life, Wallace Dagnin at the Owl Rexell Drug Store.
The two married in 1950 prior to Wally's draft in the army and shipment to Korea for combat. Upon his return they had a daughter, Joette Elizabeth. Linnis enjoyed being a mother and after the family's transfer to Orange County she began her studies at Santa Ana College and on to Fullerton College where she obtained her teaching degree.
Linnis taught in Special Education for several school districts, then retired to begin another career in the health sciences as a medical assistant in podiatry. In 1995 she became the proud grandmother of Ryan Pierce and spent special times with her new grandson. Linnis enjoyed traveling and reading. Linnis also enjoyed crafting and making ceramics, firing them in her own kiln along with selling at various holiday boutiques. She continued her ceramics classes and attending craft shows up until her recent illness. She was a patient and kind teacher for all those who wanted to learn, a loving wife, mother, grandmother and friend.

Predeceased her were her parents, Paul C. Glass and Lucy Estelle (Davis) Glass; siblings, Glen R. Glass, John P. Glass and Beulah (Boots) G. Mackinzie.

Grateful for having shared her life are her husband, Wallace Dagnin (married for 63 years); her only daughter, Joette Pierce and husband Michael, their son, Ryan Pierce of Corona del Mar; step-granddaughters, Suzy Accola and Christy Castaneda and their families; sister, Mildred C. McNair; brothers, Dave M. Glass and Eric E. Glass; along with many nieces and nephews.
Memorial gifts in the name of Linnis Dagnin may be made to: OC Stroke Association, 2332 Mill Creek Drive, Suite 110, Laguna Hills, CA 92653 (888) 794-9466 and please indicate for whom the memorial is intended (Linnis Dagnin) with your name and address. Thank you.

A celebration of Life and Resurrection, Tuesday, November 26, 2013, 10:00 am at Newport Harbor Lutheran Church, 798 Dover Drive, Newport Beach, CA 92663 (949) 548-3631. Brown Colonial Mortuary, Santa Ana.