Coeina "Marie" Peterson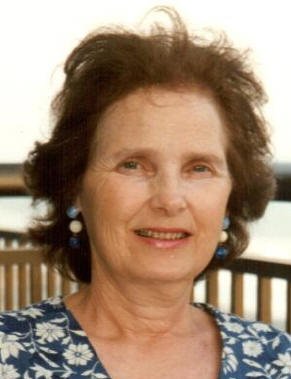 Coeina "Marie" Peterson, formerly of Topeka KS, passed away Sunday, January 12, 2014 in Overland Park KS.

Marie was born December 5, 1931 in Emmitsburg MD, the daughter of Maurice and Carrie Wilson Fitz, Sr. Marie graduated from St. Joseph's High School in Emmitsburg in 1950. After graduation she moved to the "big city" of Baltimore and went to work for the B&O Railroad as an administrative assistant.
On August 18, 1956, Marie and Leslie L. Peterson were united in marriage and later moved to Topeka in 1960. It was in Topeka that she began her role as a homemaker extraordinaire. She was very involved with her children's activities and was an active member in The Military Wives and Active Prime Timers organizations. Marie always had an adventurous spirit. She and her husband loved to travel all over the world. After his death in 2000, she continued to travel with her sister, Honey and with her close friends. She was also a doting grandmother who loved spending time with her eight grandchildren.

Marie was a member of Christ the King Catholic Church, in Topeka KS. In April 2013, she moved to Santa Marta Retirement Community in Olathe KS to be closer to her family.

Survivors include her children, Susan Cordill (Brian), Renee Sawyer (Bill) and Kent Peterson, DDS (Patricia); eight grandchildren, Austin, Alexis, Derick, David, Thomas, Megan, John and Matthew; a brother, Maurice Fitz, Jr.; and a sister, Jean Hemler. Marie was preceded in death by her husband, Colonel (ret.) Leslie L. Peterson; three brothers, Kenneth (infant), Richard and William Fitz; and a sister, Miriam (Honey) McCauslin.

Visitation will begin at 9 a.m. Friday, January 17 at Christ the King Catholic Church, in Topeka KS. A parish rosary will be recited at 9:30 a.m. Mass of Christian Burial will be celebrated at 10 a.m. at the Church. Burial will be at Mt. Hope Cemetery following the Mass.

In lieu of flowers, memorial contributions may be made to Catholic Charities of Kansas, 9720 W 87th St., Overland Park KS 66212 or the Wounded Warrior, online at www.woundedwarriorproject.org. Online condolences may be sent to the family at www.kevinbrennanfamily.com.