George Frailey Combs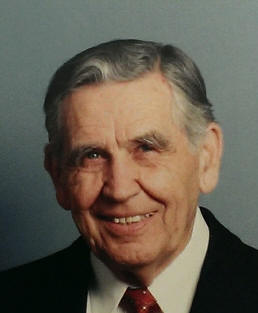 George Frailey Combs, 92, of Frederick, formerly of Emmitsburg, died Tuesday, February 11 at Homewood at Crumland Farms. Born January 11, 1922, he was the son of the late Cooley and Clara Rowe Combs. He was the husband of the late Doris Peppler Combs, to whom he was married for 60 years. Doris died March 9, 2011. George and Doris formerly lived in Alexandria, VA for more than 50 years where they were members of the Fairlington United Methodist Church.
Born and raised in Emmitsburg, George was admitted to Mount St. Mary's College at the age of sixteen and graduated with honors in 1942. He enlisted in the United States Army Air Corps that same year. After attending navigation school he was assigned to the 8th Air Force in England where he became a lead navigator guiding formations of B-17 bombers on missions over occupied Europe. He was awarded the Distinguished Flying Cross, three Air Medals, and four Battle Stars. Upon his discharge from the Army following World War II, George attended Dickinson Law School where he received a law degree in 1948 and became a member of the Maryland Bar Association.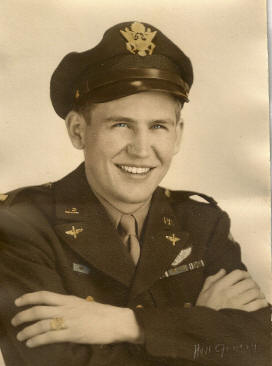 George was an attorney who spent his entire career with the United States Government Federal Trade Commission where he worked as a staff attorney and as a confidential advisor to several Commissioners. His principal work, however, was preparing the drafts of over a hundred Commission adjudicative opinions. His most significant achievement was his work on the opinion which resulted in the licensing of the patent on the antibiotic Tetracycline, saving consumers millions of dollars.
Surviving are daughter, Virginia Bruce Combs of Lutherville, MD; son, George F. "Jeff" Combs, Jr. and wife Mary Louise of Atlanta; grandchildren, Jeffrey and Gary Combs; great grandson, Sam Combs; brother-in-law, Albert Patterson "Pat" Peppler of Florida; and numerous nieces and nephews. He was predeceased by brothers, Samuel and Thomas Combs.
A memorial service will be held at 11:00 a.m. Saturday, February 22 at Myers-Durboraw Funeral Home, 210 W. Main St., Emmitsburg. Internment will be private.
In lieu of flowers, memorial contributions may be made to the Alzheimer's Association, 108 Byte Dr., Suite 103, Frederick, MD, 21702 or to the Wounded Warrior Project, 4899 Belfort Rd, Suite 300, Jacksonville, FL, 32256. Online condolences may be expressed to the family at www.myersdurborawfh.com.