Raymond Lingg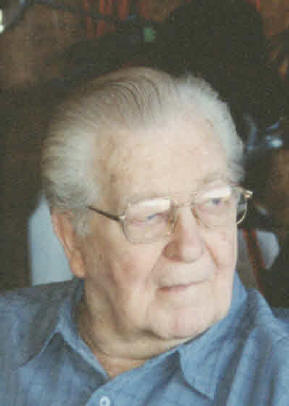 Raymond Joseph Lingg, 90, of Emmitsburg, Maryland died peacefully at his home on Monday, December 29, 2014. Born January 6, 1924 in Emmitsburg, he was the son of the late John and Jane (Baker) Lingg. He was the husband of the late Charlotte (Miller) Lingg, who died in 1994.
Raymond was a long-time member of St. Joseph Catholic Church in Emmitsburg. As a boy he would often ride the train from Dry Bridge to Hagerstown to visit his beloved "Gram." To her he was "Bud." He was a veteran of the United States Army where he achieved the rank of Sergeant. Except for those years of military service, he spent his entire life in Emmitsburg. He was a self-taught student of history and human nature. This made him a bit of a local historian, able to trace most Emmitsburg families back through several generations. In his younger, wilder days Raymond had a variety of jobs from factory worker to model to runner of bootleg liquor. He later, ironically, became a Frederick County Sheriff's Deputy and custodian of St. Joseph High School and Seton Center in Emmitsburg. He came to enjoy gardening, antiquing, and reading activities, that he shared with his daughters and grandchildren, of whom he was especially proud.
Raymond enjoyed spending time with his family, sharing memories and stories, and watching favorite programs on the History Channel. He loved his country, his hometown, and his family. He will be remembered as a fun-filled and loving father, grandfather, and uncle. His imaginative stories and sense of humor will be sorely missed. His life was not marked by moments of greatness, but everyday things done in a great way!
Raymond is survived by his loving daughters, Lydia Zurgable and husband Greg of Carroll Valley, Lisa Krom and husband Phil of Emmitsburg, and Lori Lingg and husband Mike Dexter of Carroll Valley, sisters, Rita Stahley of Emmitsburg, Ruth Heiser of Hanover, and Doris Morgret of New Oxford; grandchildren, Zane and Hailey Craig; and many nieces and nephews. He was predeceased by sisters, Helen Randolph, Edna Strahley, and Catherine Lowe; and brothers, Edward and Paul Lingg.
A Mass of Christian Burial will be celebrated at 11 a.m. Friday, January 2 at St. Joseph Catholic Church, 47 DePaul St, Emmitsburg with the Rev. Charles F. Krieg, C.M. as celebrant. Interment will follow at New St. Joseph Cemetery. The family will receive friends from 9-10:30 a.m. Friday at Myers-Durboraw Funeral Home, 210 W. Main St, Emmitsburg.
Memorial contributions may be made to St. Joseph Catholic Church, 47 DePaul St, Emmitsburg, 21727. Online condolences may be expressed to the family at www.myersdurborawfh.com.