Sterling Roger Adams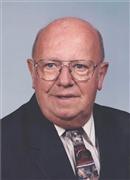 Sterling Roger Adams, Sr., age 85, of Emmitsburg, Maryland, died on Saturday, June 14, 2014 at his home.
Born June 2, 1929 in Rocky Ridge, Maryland, he was the son of the late Aaron W. and Edna B. (Wetzel) Adams. He is survived by his wife of 63 years, Anna Catherine Cool Adams.
Mr. Adams was a barber in the Emmitsburg area for many years, and also was a rural mail carrier with the U.S. Postal service. He served during the Korean War in the U.S. Army. He was a member of Elias Lutheran Church, Tyrian Lodge A.F.&A.M. 205, American Legion Post 121, and life member of the Vigilant Hose Fire Company in Emmitsburg.
Surviving in addition to his wife are sons and daughters-in-law, S. Roger Adams, Jr. and wife Sharon of Emmitsburg, Douglas L. Adams and wife Penny of Fairfield, Steven B. Adams of Emmitsburg, Dennis W. Adams and wife Cindy of Fairfield, Dale F. Adams and wife Cathy of Emmitsburg, and Josie Adams of Emmitsburg; 11 grandchildren; 10 great-grandchildren.
The family will receive friends on Thursday, June 19, 2014 from 10:00 a.m. until the time of a funeral service at 11:00 a.m. at Elias Evangelical Lutheran Church in Emmitsburg with Rev. Jon R. Greenstone officiating. Interment will follow with military honors at Mt. Tabor Cemetery in Rocky Ridge, Md.
In lieu of flowers, memorial contributions may be made to Elias Lutheran Church, PO Box 465, Emmitsburg, MD 21727.