Bruce May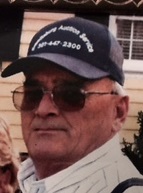 Larry Bruce May, 64, of Emmitsburg died Wednesday, April 8, 2015 at Gettysburg Hospital in Gettysburg, PA, surrounded by his loving family. Born January 29, 1951 in Baltimore, he was the son of the late Donald and Lillian (Basler) May. He was the husband of Barbara (Few) May, to whom he was married for 16 years.
Bruce was a gifted gentleman. He owned and operated Emmitsburg Auction Service since 1999. He loved attending horse races, and in his younger days actually worked as a trainer. He enjoyed listening to gospel music, collecting antique clocks, building furniture, and spending time with family and friends. Bruce was a good-hearted man with a giving spirit who enjoyed helping people.
Surviving in addition to his wife are children, Eric May and wife Dina of Goochland, VA, Erin May and companion Julie Denner of Hampstead, MD, Tonia Koontz and husband Jason of Bedford, PA, Emily Pritchett and husband Dan of Hampstead, MD, Luann Moser and husband Dan of Fairfield, PA, Bobbie McGlaughlin and husband Ryan of Emmitsburg, and Wayne Miller, Jr. of Emmitsburg; sisters, Sylvia Green and husband David of Hanover, PA, and Dawn Graf and husband Brian of Manchester, MD; brother, Trent May and wife Michele of Hanover, PA; 18 grandchildren; 1 great-grandson; and several nieces and nephews.
The family will receive friends 7-9 p.m. Monday, April 13, 2015, at Myers-Durboraw Funeral Home, 210 W. Main St., Emmitsburg, MD. A brief prayer service will be held at 8:45 p.m. with the Rev. Jon R. Greenstone officiating. Interment will be private.
In lieu of flowers, the family requests that memorial contributions to help defray funeral expenses be made to Myers-Durboraw Funeral Home, P.O. Box 308, Emmitsburg, MD, 21727. Online condolences may be expressed to the family at www.myersdurborawfh.com.