Obituary for James Edward Houck Jr.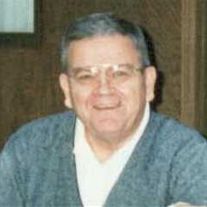 James Edward Houck Jr. of La Plata, Maryland, died on Saturday, March 14, 2015 at his home. He was 84 years old.
Mr. Houck, fondly known as Ed, was born on November 18, 1930 in Emmitsburg to the late Agnes Helena Rosensteel Houck and the late James Edward Houck Sr. Growing up in Emmitsburg, Ed worked in the family business, Houck's Quality Shop located in the town's square. He then became the owner and operator of the store.
Ed also served in the U. S. Army during the Korean War and was Honorably Discharged at the rank of Sergeant. While in the Army, he witnessed the first atomic cannon. At home Ed was also a volunteer fireman and served as Mayor of Emmitsburg.
He also was involved in the Boy Scout program, primarily starting new Scout Troops throughout Maryland. He eventually left the family store and later worked for other retail businesses, including Macy's, involving sales and managerial positions. He was very family oriented, including being the authority on the ancestry and family tree. He enjoyed going to the horse races, camping and traveling with his family.
Visitation from 9:30 AM to time of service to begin at 11:30AM on Tuesday, March 24, 2015 at Raymond Funeral Service, P.A., 5635 Washington Avenue, La Plata, Maryland 20646.
Interment to follow at Cheltenham Veterans Cemetery.