Marguerite Larue "Weetie" Baker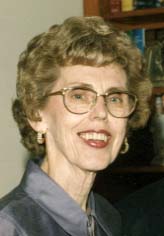 Mrs. Marguerite Larue "Weetie" Baker passed away into the loving arms of God on Wednesday, January 7 after a brief stay at the Kline Hospice House, Mount Airy, Maryland. She had also resided at Homewood at Crumland Farms since 2009. She was 88.
She was lovingly known by all who knew her as "Weetie" and was the wife of the late William G. (Bill) Baker whom she married in 1947. They lived most of their life farming in Creagerstown.
Born June 1, 1926, in Woodsboro, Weetie was the daughter of the late Marshall Warfield Stitely and Belva Llewellyn Fox Stitely of Woodsboro. She was predeceased by one brother, Edward (Buddy) Stitely and one sister, Dorothy Crawford, son-in-law, Lenny Cross and her daughter, Katrina Bradshaw.
Mrs. Baker attended school at Woodsboro Elementary School, Frederick High School and earned an Education Degree at the University of Maryland. She later pursued courses to earn a library science degree and was a librarian at Thurmont Elementary School for 23 years.
Mrs. Baker was a member of the Linganore United Methodist Church in Unionville and of the LUMC Women's Group. She was also a member of the Frederick County Public School Retired Teachers Association, the Gamma Chapter of Delta Kappa Gamma, a past member of the ARRC at Mt. St. Mary's University, a past member of the Frederick County Public Library Board and a past member of the Thurmont Public Library Board. As a youth Weetie loved to ride horses, play the piano and go dancing. As an adult she loved to read, go swimming with the arthritis swim class at the ARRC, play bridge with friends, go to the beach and use humor to co-emcee meetings for different organizations with her husband, Bill. She also wrote a chapter on storytelling in a book called Mixed-Up Magic.
Mrs. Baker will be truly missed by her loving family: son, William E. Baker and wife, Denise; daughter, Rebecca E. Cross; son-in-law, Jerry Bradshaw; grandchildren, Erika Cross, William Cross and wife Caroline and Nicholas Bradshaw; one sister, Janet Dudderar and numerous nieces, nephews and cousins. She will also be missed by her special friends, the caregivers from "Right at Home".
The family will receive friends at Hartzler Funeral Home, 11802 Liberty Rd., Libertytown on Sunday, January 11 from 2-4 and 6-8 p.m.
A funeral service will be held on Monday, January 12 at 11a.m. at the funeral home with Rev. Suzanne Morris, chaplain at Homewood and Rev. David Coakley, her church pastor, officiating. Interment will be in Linganore Cemetery, Unionville.
In lieu of flowers, donations may be made to the Friends of the Thurmont Regional Library, c/o Child Service, 76 E. Moser Rd., Thurmont, MD 21788.
Online condolences may be shared with the family at www.hartzlerfuneralhome.com