Robert Duncan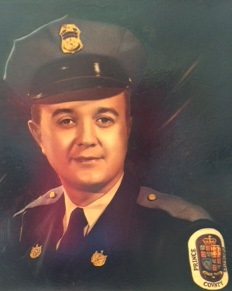 Robert Francis "Bob" Duncan, Jr., 85, of Emmitsburg died peacefully Tuesday, October 6 at Gettysburg Hospital in Gettysburg. Born June 29, 1930 in Cumberland, MD, he was the son of the late Robert Francis and Anna Margaret (Painter) Duncan, Sr. He was the husband of the late Anna (Richardson) Duncan, to whom he was married for almost 67 years.
Robert was a police officer in Prince George's County from 1952 to 1978, where he attained the rank of captain. He was a member of St. Joseph Catholic Church in Emmitsburg, and FOP Lodge #89 in Prince George's County. He loved to travel, and was a fan of the Washington Redskins and the former Washington Senators. Most of all, he loved spending time with and providing for his family.
Surviving are daughter, Dana Cornett and husband Danny of Atlanta, GA; son, Alan Xavier Duncan and wife Julia of Emmitsburg; daughter, Roberta Fifield of Jacksonville, FL; sister, Margaret "Peggy" Garges and husband Daniel of Rockville; grandchildren, Danny, Jack, and Kelly Cornett, Sara Duncan and husband Michael Barrett, Bradford Meyers, and Logan Fifield; as well as many nieces and nephews. Robert is also remembered by special long-time friends, Barbara and Harold Knuckles. He was predeceased by a brother, William Duncan, and a grandson, Christopher Alan Duncan.
A Mass of Christian Burial was held Saturday, October 10 at St. Joseph Catholic Church, Emmitsburg with the Rev. Charles F. Krieg, C.M. as celebrant. Interment was in the New St. Joseph Cemetery.
In lieu of flowers, memorial contributions may be made to St. Joseph's Ministries, 331 S. Seton Ave., Emmitsburg, MD, 21727 or to St. Joseph Catholic Church, 47 DePaul St., Emmitsburg, MD, 21727. Online condolences may be expressed to the family at www.myersdurborawfh.com.