Sebastian Gagliardi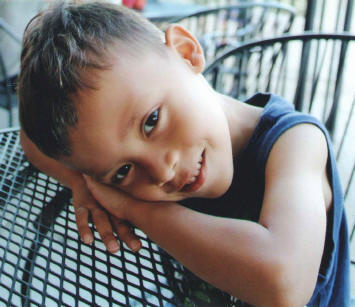 Sebastian Gagliardi, 8, of Emmitsburg passed away Wednesday, April 29, at his home following a valiant battle with brain cancer. He passed peacefully, surrounded by his loving family, into the waiting arms of angels. Born March 3, 2007 in Frederick, Sebastian was the son of Sergio and Yeimi Bautista Gagliardi of Emmitsburg.
Sebastian was in first grade at Emmitsburg Elementary School. Sebastian loved to hug and tickle, even strangers. He wanted for people to smile. His favorite toys were Legos, Star Wars figures, toy soldiers, and to play Angry Birds in a tablet. He was always helping with babies and little kids, he would open the door for others, and say "You are so pretty" to every woman he met. Grapes, arepas, lentils, marshmallows, popsicles, and McDonald's fries were his favorites. He wished to be a war doctor to heal others. His wish was for everyone to be happy. He never saw himself as being ill, just as having a bump in his head. He was brave and kept on living as if everything was all right.
Surviving in addition to his parents are his sister, Sophia; paternal grandparents, Oscar and Zoila Gagliardi of Emmitsburg; maternal grandparents, Omar Bautista of Bogota, Colombia and Mercedes Avendano of Germantown, MD; and several aunts, uncles, and cousins.
A Mass of Christian Burial will be held at 11 a.m. Tuesday, May 5, 2015, at St. Joseph Catholic Church, 47 DePaul St., Emmitsburg, with the Rev. John J. Holliday, C.M. as celebrant. Interment will follow at Emmitsburg Memorial Cemetery. The family will receive friends 2-4 and 6-8 p.m. Monday at Myers-Durboraw Funeral Home, 210 W. Main St., Emmitsburg, with prayers offered at 7:30.
In lieu of flowers, contributions may be made to support DIPG Research to cure childhood brain tumors to Children's Hospital Foundation, 111 Michigan Avenue, N.W., Washington, DC 20010 or to support the families and caregivers of cancer patients at the Adams County Cancer Patient Help Fund, WellSpan Gettysburg Hospital Foundation, PO Box 3995, Gettysburg, PA 17325. Online condolences may be expressed to the family at www.myersdurborawfh.com.