Ruth Richards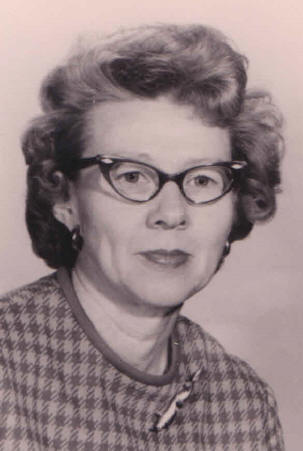 Ruth Owen Richards, longtime resident of Emmitsburg, died peacefully on Sunday, January 4, 2016, at the Brethren Home in New Oxford. She was 98. Born July 13, 1917, in Sioux Falls, SD, she was the daughter of the late Thornton and Gladys Rottluff Owen. She was the wife of the late Dr. John W. Richards, who died in 1996.

Ruth earned a B.A. in English at Yankton College in South Dakota, where she also received a secondary school teaching certificate. She moved to Maryland with her husband in 1940, when he accepted a teaching position at Mount St. Mary's College. Together, they raised two daughters. Ruth was well known in the community, initially in her capacity as the main substitute teacher for Emmitsburg High School, then as an English teacher at both Thurmont and Catoctin High Schools. She was also known as a knitter of blue-ribbon cable sweaters, a knitting tutor, and finally, as a memoirist whose essays appeared in the Emmitsburg News-Journal and the Emmitsburg Dispatch. She was a member of the United Presbyterian Church in Emmitsburg.

Surviving are daughters, Katherine Richards Fishburn, and Marjory Richards and husband, DeWitt Cheng of San Francisco, CA; grandson, Alan Cheng and wife Ning Wang of Beijing, China; and niece, Elizabeth Bain of Lansing, MI. She is also remembered by devoted friends, Bill O'Toole and Cathy Bodin of Emmitsburg, MD, and Cindy Ott of Spring Grove, PA. She was predeceased by sisters, Claudia Owen Tabbert and Marjory Owen Raabe.

Ruth outlived many of her friends, but she will be remembered fondly by her family and younger friends for the time she spent with them and the fabulous dinner parties she gave. She will also be remembered by her former students for the loving attention she gave them and the interest she took in their lives. Her family wishes to express gratitude for the loving care provided by the Brethren Home staff and the Visiting Angels Living Assistance Services of York, PA.

Ruth's desire was always to help and serve others. In that spirit, she arranged long ago for the donation of her remains to medical research. A memorial service to celebrate and honor her life will be held at 5 p.m. Wednesday, January 13, at Myers-Durboraw Funeral Home, 210 W. Main St., Emmitsburg, MD, with the Reverend Dr. Peter Keith officiating. The family will receive friends from 4 p.m. until the time of the service. Online condolences may be made to the family at www.myersdurborawfh.com.