Elizabeth Helen Fry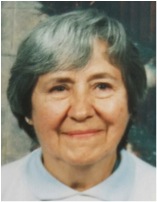 Elizabeth Helen Fry, 83, of New Market, passed on March 22, 2017. Born in Baltimore on March 30,1933 to the late James Oscar and Iva Elizabeth Orndorff (nee Topper). She was the wife of the late Walter Norman Fry, whom she married in 1957.
Helen attended St. Anthonyís Catholic Primary School and graduated from St. Joseph Catholic High School. She would go on to work for Mount St. Maryís University, Fort Detrick, and National Geographic Society, from where she retired.
She was a former parishioner of St. Anthonyís in Emmitsburg and was a longtime parishioner of St. John the Evangelist. She was also a member of the Catholic Daughters of the Americas.
Helen enjoyed gardening, traveling, and baking. She also loved her family deeply and enjoyed spending time with her children, grandchildren, and her dogs. She volunteered her time with Frederick Memorial Hospital, St. Johnís, where she was part of Sister Margaretís Dustbusters, and the Linganore Band Boosters.
Helen is survived by her children; Jim Fry (Peggy) of Columbia, MD, Mary Johnston (Sam) of New Market, MD, John Fry (Joanne) of St. Marys, GA, and Joel Fry (Jen) of Culpeper, VA; siblings Mary Wivell and Lillian Layman (Richard); 9 grandchildren and 7 great-grandchildren.
Family and friends can gather at Keeney and Basford Funeral Home, 106 East Church St., Frederick, MD 21701, on Sunday, March 26, 2017 from 2-4pm and 6-8pm, with a rosary at 7:30pm. A Mass of Christian burial will take place at St. John the Evangelist Catholic Church, 118 E 2nd St, Frederick, MD 21701, on Monday, March 27, 2017 at 11am. Interment to follow in Mt. Olivet Cemetery.
Memorial donations may be made in her name to the Franklin County Veteran Affairs: Operation Save-a-Vet, Save-a-Pet, 425 Franklin Farm Lane Chambersburg, PA 17202.