Mildred Elomae "Millie" Vaughn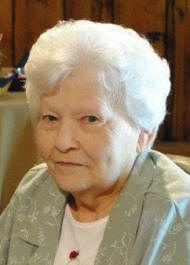 Mildred Elomae "Millie" Vaughn, 86 of Thurmont, died peacefully on Wednesday, January 11 at Gettysburg Hospital in Gettysburg. Born September 4, 1930 in Emmitsburg, MD, she was the daughter of the late Irvin and Rita (Manning) Wetzel. She was the devoted wife of Earl Richard Vaughn, to whom she was married for 55 years.
Millie worked as a housekeeper at the former St. Joseph's Girls College in Emmitsburg. She was later employed at Cambridge Rubber Company in Taneytown, Freeman Shoe Company in Emmitsburg, and Moore's Business Forms in Thurmont. She was a member of St. Joseph Catholic Church in Emmitsburg. Millie enjoyed sewing, and was widely known for her Barbie Doll clothing creations. She also enjoyed crocheting, baking, traveling, and collecting dolls. Most of all, she enjoyed spending time with her beloved family.
Surviving are daughter, Candace Lookingbill of Carolina Beach, NC; sons, Thomas Vaughn and wife Jamey of Emmitsburg, Terry Vaughn and wife Lori of Littlestown, PA, John Vaughn and wife Laura of Thurmont, and James Vaughn and wife Liz of Gettysburg, PA; sister, Charollette Livezy of Greenville, SC; grandchildren, Roy Lookingbill and wife Jamie, and Michael Lookingbill and wife Sarah, all of Carolina Beach, NC, Ashton Carovillano and husband Mark of Raeford, NC, James and Josh Vaughn of Thurmont, William Vaughn of Littlestown, PA, and Jade Vaughn of Emmitsburg; great-grandchildren, Michael, Chase, and Beck Lookingbill, and Aubrey Vaughn; and many nieces and nephews. Millie was predeceased by sisters, Margaret Andrew, Doris Turner, Mary Welch, Josephine McKelvey, and Patricia Andrew, and 2 granddaughters, Mindy Kay Lookingbill and Trista Marie Kuhn.
A funeral service was held at Myers-Durboraw Funeral Home, 210 W. Main St., Emmitsburg with the Rev. Charles F. Krieg, C.M. officiating. Interment was at the New St. Joseph Cemetery.
Memorial contributions may be made to St. Joseph Catholic Church, 47 DePaul St., Emmitsburg, MD, 21727.