Clarence G. Frailey
Originally Published in the April 4th, 1974 Emmitsburg Chronicle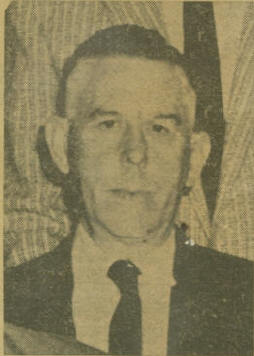 Clarence G. Frailey, 84, 4001 West Main St., died Tuesday afternoon at the Annie M. Warner Hospital, Gettysburg. He was born in Emmitsburg and was a life-long resident of the community.
He was the husband of the late Estella Codori Frailey who died Dec. 21, 1972. He was the son of the late Oscar and Clara Hoke Frailey.
He is survived by one son, David Frailey of Long Island, N. Y., and one daughter, Mrs. Helen Matthews of Columbus, Ohio; four grandchildren; and , one great-grandchild.
He was a member of St. Joseph's Catholic Church, Emmitsburg, and a charter member of the Francis X. Elder American Legion Post 121 of Emmitsburg, the Lions Club of Emmitsburg, and a director of the Farmers and Mechanics National Bank in Emmitsburg. He was a veteran of World War I, and was a grocery store merchant in Emmitsburg for many years. He also served several terms as Burgess of Emmitsburg.
Funeral services will be held Friday, meeting at the Wilson Funeral Home, Emmitsburg, at 9:30 a.m., with Mass of the Christian Burial at 10 a.m, at St. Joseph's Catholic Church. The Rev. Father John King will be the celebrant Burial will be in the Emmitsburg memorial cemetery.
Friends may call at the Wilson Funeral Home, Emmitsburg, this , evening (Thursday), with the Rosary to be recited at 7:30 p.m.
---
If you knew Clarence Frailey, and would like to see him remembered in the next History of Emmitsburg, Please send us any stories or antidotes about him to us at: history@emmitsburg.net