Peter F. Burket
Originally published in the 1951 Pictorial History of Emmitsburg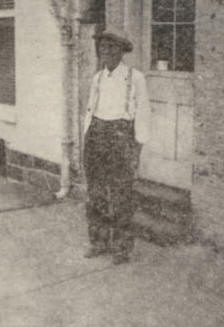 Mr. Burket, who lives on East Main Street near the Square, was born one mile west of Emmitsburg on August 11, 1862. In his youth he spent six years working in the steel mills of Pittsburgh, Pa., at the fabulous wage of 15 cents per hour. For a time he also was a brick maker at Columbia, Pa. From 1899 to 1909, he was a merchant in Emmitsburg at what is now the Rowe Store in which he had purchased half interest.
On May 2, 1897, he married Elizabeth Adlesberger, who died in 1909. He was married again on October 4, 1910, to Amelia Norris who died in 1940. Now he lives alone and gets his own meals.
That's the way he cured ulceration of the stomach, he reports. He is a member of St. Joseph's Church. While he has no children, he states that he had 25 nephews in World War II.
The most interesting event in his life was the honeymoon trip with his second wife in 1910. He went by train visiting Pittsburgh, Chicago, Denver, Salt Lake City, and the Mormon Temple, Reno, points of interest in California, including what is now Alcatraz, the Red-wood Forests, Grand Canyon, Arizona, El Paso, and many other places, all of which he recalls with vivid imagination. His advice to young people is to see the beauties of America first.
Mr. Burket, at the age of 89, states that he is in good health and hopes to live to be 100. We all join him in the good wish that his hope may be realized.
Have your own memories of Peter F. Burket?
Send them to us at: history@emmitsburg.net