The Short History of the Rowe House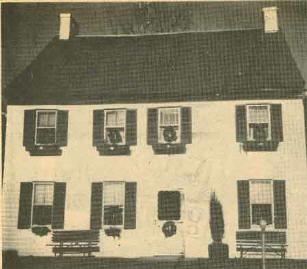 In October of the same year, John Dugan sold one of these lots, or what is now 308 West Main St., to James Agnew for the sum of 90 pounds.
This large price differential indicates that John Dugan improved this lot with a log house, the origin of the existing structure, during that 3 month period.
The chain of title in the land records shows the following additional owners of the property with their purchase dates; Robert S. Annan, 1807; Henry Keagy, 1813; Henry McHenry, 1819; and Ann Murdock in 1821.
After having several owners for the first 20 years of its existence, the house remained the property of Ann Murdock until her death in 1848 at the age of 92. The executor of her estate, John C. Quay, conveyed to property William Pepple in 1849, who then conveyed it to J. A. Rowe in 1855. The Rowe Family owned the property for the next 114 years.
In this more than a century of ownership, the Rowe house undoubtedly went through many changes and improvements.
Some of these were the brick addition to the rear of the house, the covering of the logs with weatherboard and the construction of the adjoining cobbler shop.
The two most recent owners, Clare D. Collins, 1969, and Robert F. Gauss, 1974, have undertaken the restoration and modernization of this 18th century house.
The existing house has 12 rooms, 6 fireplaces, 2 of which are corner type, and a front and back stairway.
Some of the original features still plainly visible are the twenty-four inch diameter log beams in the basement, the sagging hand-hewn beams in the at-tic, the random width flooring, and some of the hardware on the door and windows.