St. Joseph's high school
Emmitsburg's last high school
Emmitsburg lost its last high school in 1982. That's not so far back that there still aren't people who remember that before the people lived in the apartments on DePaul Street, students learned there in a school run by the Daughters of Charity.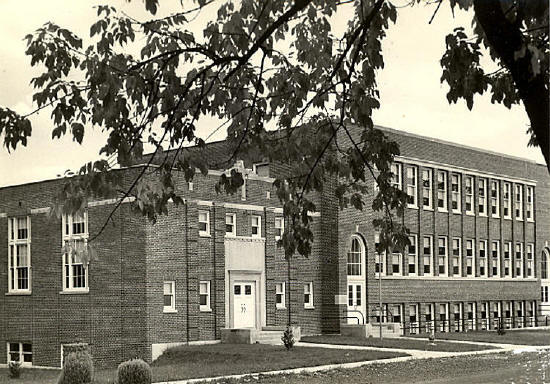 St. Joseph's High School ~ 1946
St. Joseph's High School opened in 1946 in the Cribbins Memorial Building on DePaul Street next to the St. Joseph's Catholic Church rectory. It replaced the St. Joseph's College High School, which had been a girls-only boarding school that had operated since 1890. The high school was co-educational. It included seven grades in its early years so that both high school and junior high students were taught in the building.
"The Class of 1950 was the first class to have all four years in the school, but we were the second," said Pat Boyle, whose family name can be seen frequently on the rolls of Emmitsburg's Catholic schools.
The building
The high school had no air conditioning, which was not unusual for schools at that time. It meant that Indian summers and hot springs made for uncomfortable days for students and staff alike. In the winter, though, Boyle said that the school stayed nicely heated, either by the building's boilers or the afternoon sun.
"We were always having to pull down the shades to keep the sun out in the afternoon to keep the rooms from getting too hot," Boyle said. The rooms that heated up in the sun were the homerooms, which were on the DePaul Street side of the school.
The school's shop class was taught on the first floor along with the home economics class. The cafeteria and gymnasium were also on this level.
"I thought it was a very nice building," said Joseph Muffolett, Class of 1952. "It was well lit and relatively new."
Dress codes
Being a Catholic school, the students were expected to adhere to a dress code. Boys wore ties, white shirts and dark pants. Girls wore a white blouse and a one-piece green uniform. This eventually became green sweaters and plaid skirts in the later years of the school.
"I don't remember there being a lot of complaining about having to dress up a little bit," Muffolett said. "It raised you a little bit above the public schools, which weren't as strict."
When the length of girls' skirts started to shrink in the 1960s, the girls at St. Joseph's High still had to wear knee-length skirts. Steve Haines, Class of 1966, remembers that it wasn't only boys checking out the girls in their skirts. The staff made sure to enforce the knee-length rule.
"They would make a girl kneel down on the floor to make sure that it touched the floor," Haines said. "It kept the girls from rolling up the waists of their skirts to make them shorter."
The Daughters of Charity also had their own dress code with their iconic wide, white cornettes and dark dresses. However, that changed in 1964 and it was as shocking to the students as mini-skirts in school would have been to the sisters. That year, the Daughters of Charity switched from the cornettes to a simpler veil-like covering.
When the news that the sisters had changed their style of dress reached the students, they wanted to see it in person. Haines said the students stood on the front steps that first day waiting to get their first look at the sisters who came down the stairs from inside the school.
"They had looked so big before, but now you could finally really see their faces," Haines said. He was also quick to point out that it didn't end the respect that the sisters commanded.
Classes
St. Joseph's High was never a large school. The class sizes ranged from the mid-20s to the mid-30s, generally. This means the school's entire enrollment was around 100 students any given year or roughly a third of the size as the current Emmitsburg Elementary School.
Most of the students lived locally in town and walked to school. If transportation was needed, either the parents drove their children to school or group arrangements could be made for transportation.
In the Fort Ritchie area there were enough students attending St. Joseph's High that they could pile into a van each morning to travel down the mountain, according to George Gorman, Class of 1966. However, living outside of Emmitsburg tended to isolate him because he was too far away to regularly see his friends after school and most of the other kids in Fort Ritchie attended the local public schools so he wasn't part of their social circles, generally.
Haines remembers that the school days began around 8:35 a.m. with the Pledge of Allegiance and a prayer. There were six 40-minute classes each day with period one beginning at 9 a.m. and period seven wrapping up at 2:15 p.m.
Lunch fell between fourth and fifth periods. In the early years of the schools, students brought a lunch and ate together in the cafeteria. By the time the school closed in 1982, seniors were allowed to leave the school grounds at lunch.
"We liked to go to Stavros during lunch," said Kate Hailstone, Class of 1982. "We didn't always eat there. A lot times we just sat and talked."
Classes included the basics like math, social studies, religion, English, science and glee club. "They made glee club mandatory," Gorman said. "That was fine if you liked to sing, but not everyone did or could."
In public schools, evolution was the only thing student were taught about how life came to be. In St. Joseph's High, Muffolett said that the science classes he remembers taught biology but creationism was also taught in the classrooms. Hailstone said that her religion class seemed to her to be more like an ethics class.
St. Joseph's students could also take Latin, French, home economics, typing, speech and manual training (shop class) as electives. Muffolett remembers that a man would come in to teach agriculture during his time at the school.
For the majority of the day, the students in a grade level would stay together with the same schedule. It was only the elective classes that saw some intermixing of the grade levels.
Though class offerings were limited, many of the students felt like they were well-prepared for college. Muffolett said he attended Loyola College after graduating.
"They had an admissions test and I did extremely well on it," he said. "I also felt well prepared for college when I started taking my classes."
Good sisters and bad boys
The Daughters of Charity maintained strict discipline in their schools and their classrooms. Students walking in the halls spoke softly and walked in orderly lines of traffic so as not to clog the hallways or stairwells. There was no yelling, running or crushing masses of students moving in a dozen different directions that is seen in today's high schools.
Despite the strictness, many of them were loved and are still fondly remembered. Gorman recalls his math teacher, Sister Claire. "She was matronly and had a beautiful smile. She was always happy," he said.
Hailstone favorite teacher was her social studies teacher, Sister Eleanor Casey. Hailstone said she was "open minded and smart. She understood the students."
Boyle has a less-pleasant memory of the classes since he failed English one year and had to attend summer school, which was held in a lay teacher's home. Mrs. Rogers tutored him and another student in English throughout the summer.
"That just killed my summer," Boyle said.
Muffolett also found himself struggling under the strict discipline of the Daughters of Charity. He acquired a reputation as a troublemaker and it stuck.
"I wasn't a super student, but I was well behaved," Muffolett said. However, he apparently liked to comment on lessons or laugh at the wrong time in class. It reached a point where he was on the verge of expulsion.
"My parents would have killed me if I had gotten kicked out," Muffolett said. "My mother had to come in and talk to the sisters. I got to stay, but I had to do penance at the church. A couple times a week I had to walk over there and pray that I would learn how to behave myself."
However, his reputation was in place and Muffolett said, "I got blamed every time an incident took place."
On a field trip to Washington D.C., some boys put the bus windows down and threw paper airplanes out of them just as the bus happened to be passing some sisters standing on the curb.
"Sure enough, when we got back, I was the one who got called into the office," Muffolett said.
Lucky for him another student came up to the office and admitted that he had thrown the planes out the window.
Boys weren't the only ones who could cause trouble in the school, though. Mary Ann Frye, Class of 1982, wrote on her Classmates.com page, "The wildest thing I ever did in High School? Glued Sr. Margaret's chair to the floor before school one day. I had help on that one."
Hailstone thought St Joseph's High School wasn't nearly as strict as her former school in England. She went to a convent boarding school and said she was getting detention all the time there, which was something that didn't follow her to St. Joseph's High.
Extracurricular activities
The Daughters also had support from Mount Saint Mary's College in their teaching efforts. Haines said that the deacons would come over from the college to teach classes. The college helped in other ways, too.
"We would play our basketball games in the old Mount gym," Haines recalls. "Oh, we thought we were all hot stuff then to be playing in a college gym."
While basketball for boys and girls was the predominant sport at the school, other sports teams were offered though not as consistently as basketball. Depending on when a student attended, he or she could play baseball, softball, soccer or cross country. Cheerleading was also offered for the girls.
"We didn't have enough students to do much of anything else," Haines said.
Boyle describes himself as a jock. He played on the school basketball team throughout his time at St. Joseph's High. "My senior year, our basketball team won the league," Boyle said. "We were 25 and two. We only lost to St. Francis."
Clubs and activities that St. Joseph's offered were much like any other high school: business club, glee club, French club, newspaper, yearbook and student council. Some were also distinctly Catholic like the Mother Seton Club and the Children of Mary Club.
A dark day
The year 1963 sticks in many people's minds because that is the year that Lee Harvey Oswald assassinated President John F. Kennedy. Sam Wivell, Class of 1966, said it hit the sisters hard.
"We didn't know what happened at first," Wivell said. "They were took us next door [to St. Joseph's Church] so they could pray. It was hard on them especially because he was the first Catholic president."
Closing
In 1982, it was decided that the time had come to close St. Joseph's High School. High school students were needing more classes that the school's enrollment couldn't justify.
Hailstone was a member of that last graduating class. "It was the last year and we knew the school was closing. It was a bit sad, especially at graduation."
Most of the underclassmen were transferred to Catoctin High School in Thurmont the following September.
The closure of St. Joseph's High marked the end of one more educational branch of St. Elizabeth Ann Seton's Legacy that began when St. Joseph's Academy and Free School opened in 1810. St. Joseph College had closed in 1973 ending the vision of girls-only and collegiate education in Emmitsburg. St. Joseph High School ended the vision of secondary education.
Life after graduation
Though many graduates moved away to other states and even other countries, others chose to stay in the area. Graduates also found that their education had given them a firm foundation for their later work as teachers, politicians, small business owners and more. Here are a few examples:
Pamela Miller, Class of 1962, became a real-estate broker.
James Grinder, Class of 1965, became the director of transportation for the Daughters of Charity.
Pat Brew, Class of 1973, became a teacher.
Frank Borghese, Class of 1979, served in the U.S. Army in many locations in the Middle East and Europe. He also earned a law degree and worked in international trade.
Barbara Little, Class of 1982, became a nurse practitioner in the nephrology field.
Ron Russ, Class of 1982, works in radio and plays in a band.
Michelle Coffey, Class of 1984, became an interior designer and freelance photographer.